After reporting record results in Q1 things seems to have cooled off somewhat during Q2 at X Trade Brokers Dom Maklerski SA (WSE:XTB).
X Trade Brokers, which operates Retail Forex broker XTB.com as well as the X Open Hub trading platform, reported that Q2 2018 Revenues came in PLN 84.2 million (USD $22.8 million), down 26% from Q1's record at PLN 113.7 million.
Nevertheless XTB had a fairly successful quarter, with Q2 Net Profit of PLN 41.6 million (USD $11.3 million), versus a record Q1 net profit of PLN 59.5 million (USD $17.3 million) in Q1. For all of 2017 XTB earned PLN 93.0 million.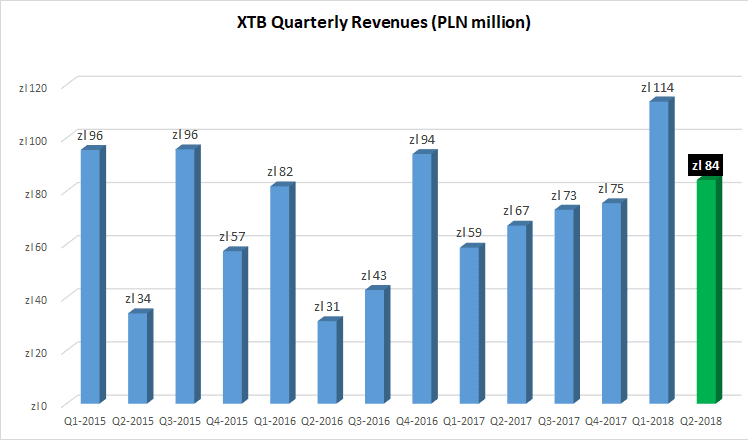 The healthy Q2 results come as welcome news for XTB, which is facing an investigation at home from Polish financial regulator KNF involving claims of fraud and asymmetric slippage, while the company has struck back claiming it is being blackmailed. The company is also exiting the Turkish FX market, once one of the company's most important outside of Eastern Europe, which was reported by LeapRate back in December.
In the following quarters of 2018 the company said that it will strive to stabilize the number of new clients and average number of active clients at the levels observed in the previous quarters, which as noted was record breaking. In addition, the Management Board sees the greatest potential for business growth in the German, French and Latin America markets.
Looking at revenues in terms of the classes of instruments, CFDs based
on stock indices dominated similarly as in the earlier periods. Their share in the structure of revenues on financial instruments in the first half of 2018 was 51.0% against 50.5% a year earlier.
Traditionally, CFD instruments based on the German DAX stock index (DE30) was of the highest interest among XTB clients. CFD based on US indices were also very popular. Revenues on CFD instruments based on currency pairs amounted to 29.3% of total revenues against 31.9% a year earlier. Among this class of instruments, the EURUSD currency pair was the most popular among XTB clients.
Geographically, XTB said that its revenues were well diversified. Their growth has occurred in both, Central and Eastern Europe and Western Europe. Countries from which the Group derives more than 15% of revenues are Poland with shares amounted to 32.3% (first half of 2017: 19.5%) and Spain shares amounted to 15.0% (first half of 2017: 23.0%). The share of other countries in the geographical structure of revenues does not exceed in any case 15%. Latin America is also gaining on importance,
which has already replaced the gap in Turkey.
XTB's full report on its Q2 results can be seen here (pdf).