After reporting fairly strong results for the first half of the year, things seems to have cooled off somewhat during Q3 at X Trade Brokers Dom Maklerski SA (WSE:XTB) thanks to lower market volatility and ESMA's new CFD rules.
X Trade Brokers, which operates Retail Forex broker XTB.com as well as the X Open Hub trading platform, reported that Q3 2018 Revenues came in at PLN 47.6 million (USD $12.7 million), down by 43% from PLN 84.2 million in Q2. In Q1 XTB had its best-ever quarter with record revenues of PLN 113.7 million.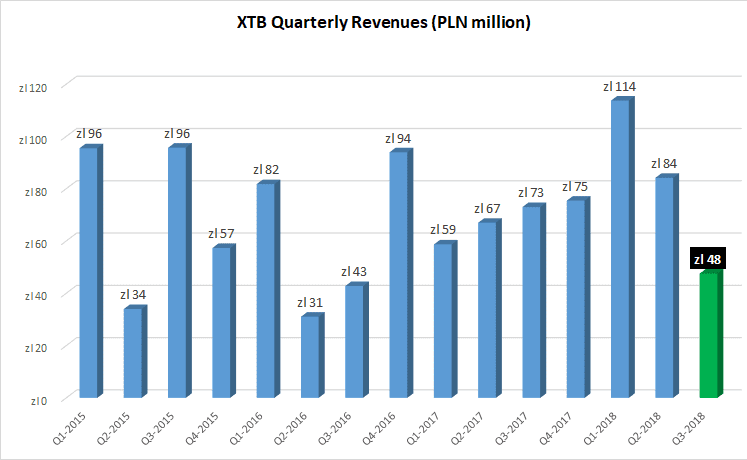 XTB reported a Q3 net loss of PLN 2.9 million, which included the expensing of a PLN 9.9 million fine from Polish financial regulator KNF relating to charges of asymmetric slippage. Without the fine XTB would have reported a Q3 net profit of PLN 6.2 million.
As noted above, XTB blamed the decline in revenues and activity during Q3 to the summer holiday, the August 1 implementation by European regulator ESMA of a 30x leverage cap on Forex and CFD trading, and generally lower market volatility. However XTB did point out that its customer base continued to grow, with the number of new clients in Q3 totaling 4,884 (up 16.3% y/y) and the average number of active clients higher by 2,014, (+11.0% y/y).
Interestingly, most Q3 activity at XTB was in Commodity CFDs, which represented 59% of revenues at XTB. Index CFDs trading, normally the most active area for XTB, was just 18.6%.
XTB's full report on its Q3 results can be seen here (pdf).