In the third quarter of this year, volumes across Europe's largest derivatives exchange Eurex suite of Fixed Income Futures have been strong with record figures in some segments.
A combination of Brexit, an upcoming constitutional referendum in Italy and the Spanish elections, increased volatility in the underlying rate markets and thereby also the market's hedging needs.
The expanded range of Eurex government debt Futures allows more effective risk reduction", said Eurex CEO Thomas Book when presenting Eurex monthly trading statistics.
Following the sovereign debt crisis, funds mangers started to include interest rate risk and default risk in their analysis. The current developments in Europe's government debt markets support French OAT, the Italian BTP and the recently launched Spanish Bono Contract. Portfolio managers employ these contracts to hedge their government debt portfolios.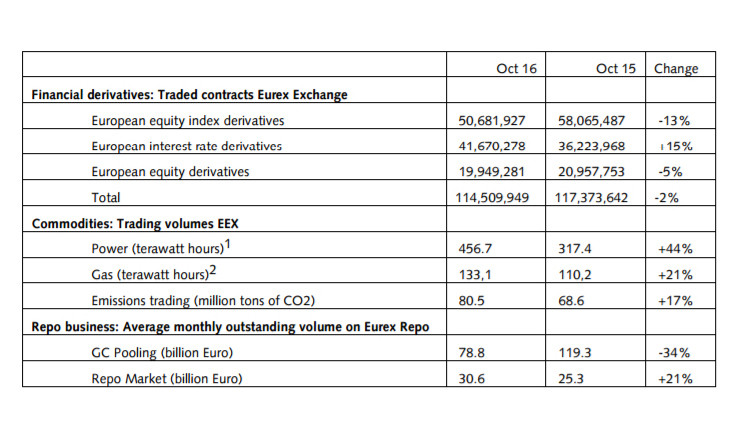 Volumes in Euro-OAT Futures increased by 34.7% compared to the third quarter in 2015. Over 6.5 million contracts were traded, with September volumes surging to a new record high of 3.2 million. The positive liquidity development was further highlighted by the average daily volume exceeding 103,000 contracts. Open interest peaked at 336,900 contracts. Euro-BTP Futures continued to be a fast growing fixed income instrument. Over 6.1 million contracts were traded, a 15.5% increase over Q3/2015. The average daily volume stood at over 106,300 contracts and open interest reached a high of 358,158 contracts.