Less than two days after crossing the $1,000 barrier, Bitcoin prices continued their march upwards and quickly crossed the $1,100 level on Wednesday. As of the time of writing, Bitcoin was trading at $1,122, up more than 8% on the day.
As recently as December 20, Bitcoin was trading at under $800.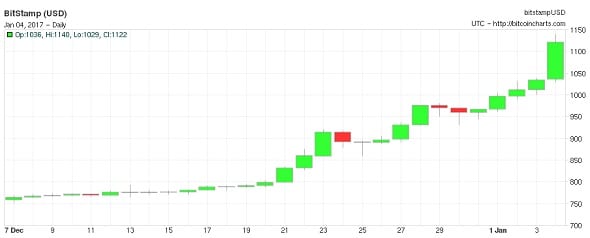 Bitcoin one-month price chart. Source: Bitcoincharts.com.
Traders' current love affair with digital currency extends far beyond Bitcoin. One of the 'next Bitcoin' instruments, Dash, saw a 40% price spike in the past 24 hours ahead of an anticipated software upgrade.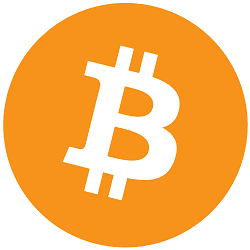 Bitcoin's price rise during much of 2016 was mainly a factor of growing Chinese interest in cryptocurrencies as a means of both protecting value and transferring wealth abroad. The Chinese Yuan has been in a year-long swoon, and Chinese authorities have been steadily tightening regulations around money transfer. Bitcoin – and the anonymity in brings – quickly became a safe haven of choice for Chinese traders.
However we understand that the most recent price spikes are due to good ol' speculation, in what seems to be a quickly developing game of digital hot potato.
A number of Bitcoin purists, focused mainly on getting 'real' businesses and consumers to use Bitcoin, are not too pleased with what's going on right now. What goes up can quickly come back down. And too much volatility is likely to scare off 'Mom and Pop' users from adopting Bitcoin use into their daily lives.