LeapRate Exclusive… LeapRate has learned that Pepperstone, one of Australia's leading retail forex brokers, has expanded its social and auto trading offering by adding RoboX from Tradency.
We had reported that Pepperstone recently launched Tradency's other main product, its MirrorTrader forex auto trading platform. Apparently the company decided to expand its agreement with Tradency, adding its new algo trading platform, RoboX.
We expect the parties to make a formal announcement shortly.
Other recent forex brokers to launch RoboX include Rakuten marking the first such deal in Japan, and Belize-based Russia-focused forex brokers NPBFX and Gerchik.
RoboX uses a unique algorithm which correlates between traders' personal trading profiles, and what Tradency calls the world's largest algo database, to create trading packages that are best suited to each individual trader.
RoboX is a trading machine based on smart packages of strategies. RoboX correlates users' personalised trading profile and Tradency's world-largest strategies database to offer the most suitable packages and money management allocations. Each package is set by an algorithm according to predefined rules. The unique algorithm keeps afloat only the most profitable strategies while each package is updated periodically and automatically.
In addition to the Tradency products, Pepperstone also offers social trading platforms ZuluTrade, Myfxbook, and MetaTrader 4 Signals.
Pepperstone sent out the following email to its clients on the matter:
---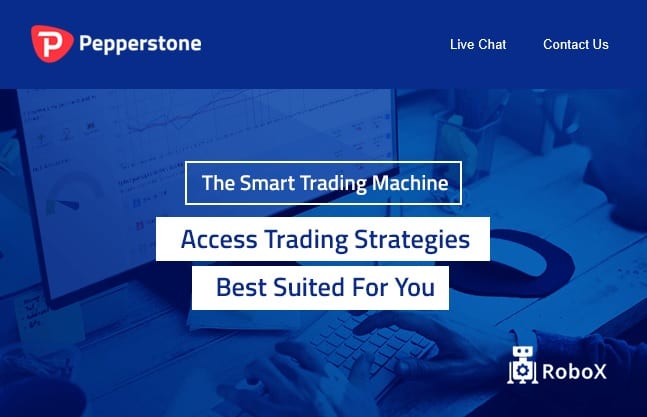 Hi [client],
Starting live trading can be a daunting task, that's why Pepperstone features a range of social trading platforms to take away the guess work of trading Forex.
Our latest social trading platform RoboX, is a premium algo-trading tool for retail Forex traders. RoboX uses a proprietary algorithm which correlates between your personal trading style and the world's largest algorithm database to create trading strategies that are best suited for you.
What is Algo Trading?
Algorithmic (Algo) Trading is the process of using computers programmed to follow a defined set of rules for placing a trade in an attempt to generate profit at a speed and frequency that is impossible by a human trader.
7 Day Offer – Open a live trading account in the next 7 days and get free access to RoboX. Simply open a live account and contact [email protected] to connect your account.
Key Advantages:
Simple setup – answer, click and you're done
Personalised to your risk tolerance
Free for Pepperstone clients
RoboX is just one of many social trading platforms that Pepperstone offers. Feel free to contact support if you have any questions or if there is anything else you would like assistance with.
Kind regards,
The Pepperstone Team