Open social trading network FX Junction just announced that clients can now host their MetaTrader 4 and 5 terminals on FX Junction thus keeping their account linked to their FX Junction trading profile at all times.
The Hosted solution is ideal for FX Junction members who are sharing signals and utilizing the AutoCopy system as it eliminates the need to keep open at all times the MetaTrader terminals on your desktop or pay for costly VPS connections.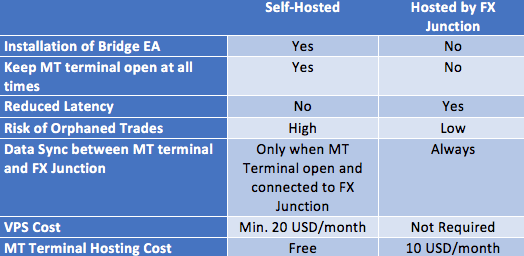 The FX Junction Hosted Terminal is available FREE for the first 7 days, allowing clients to try before they subscribe. After the free trial expires, it is only 10 USD per month, which is automatically debited from your Credits balance.
FX Junction will still continue to offer members both hosting options available to choose from.
Self-Hosted: Requires installing the FX Junction Bridge EA on their MT terminals and keeping their terminal open on their desktop or VPS.
Hosted: No installation required, simply input your MT Account Number/Password and choose your MT Server.