This article was submitted by Antreas Themistokleous, market analyst at Exness.
---
Activity in markets has generally been low so far this week as participants look ahead to key meetings of central banks and Friday's job report from the USA. All three of the Fed, Bank of England and European Central Bank will release statements with expected rate hikes before the end of the week. This midweek preview of data looks at EURUSD and GBPJPY.
Last week the Bank of Canada hiked its target overnight rate one step to 4.5% as expected. The reaction on charts was mostly muted given that the result had been priced in, but USDCAD has been more volatile so far this week.
The Fed seems to be nearly guaranteed to call for a single hike to 4.5-4.75% this evening, so the main event is the subsequent press conference. The focus of traders there is on Jerome Powell's comments on inflation and economic conditions. The BoE and ECB are both likely to call for double hikes tomorrow afternoon, an outcome which is also widely predicted, so attention will likely focus on the press conferences in much the same way as the Fed.
Friday's job report from the USA is another critical release this week, with the consensus of a drop to 185,000 for the NFP itself and unemployment rising slightly to 3.6%. If broadly accurate, this could confirm sentiment that the Fed will continue to be less hawkish because such figures would suggest a clear cooling off in the job market in the USA even though that might be only temporary.
Traders are also going to monitor flash inflation from the eurozone this morning, ISM manufacturing PMI later today, German balance of trade tomorrow and ISM non-manufacturing PMI on Friday. This is a particularly active week on the economic calendar so most traders would traditionally monitor positions more closely than usual and take extra care to avoid overexposure.
Euro-dollar, daily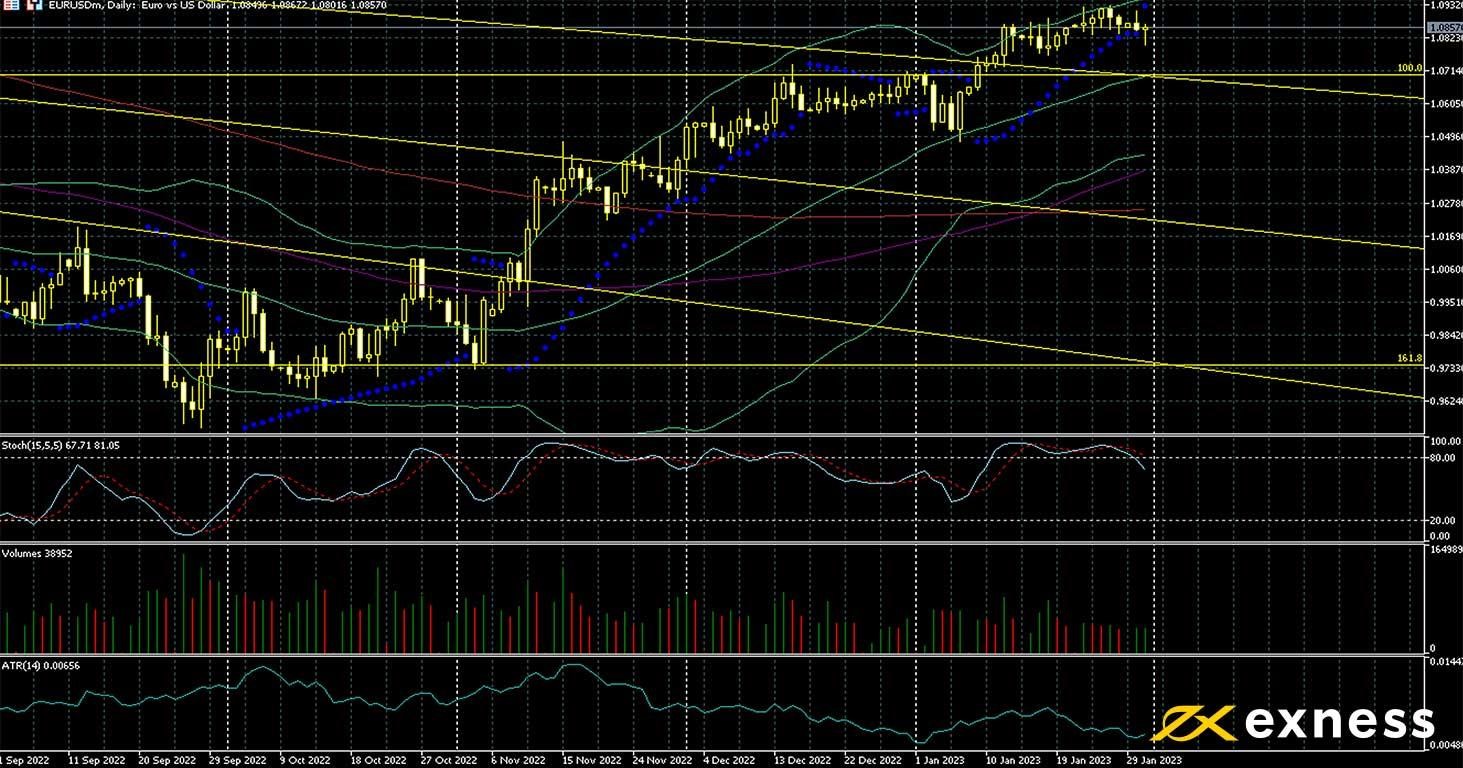 Economic data from the eurozone have mostly been more neutral than negative this month despite the occasional blip from Germany. That's one of the main sources for somewhat more positive sentiment on the euro compared to early in the fourth quarter of last year combined with expectations that the ECB will continue to hike its rates strongly into the summer.
There's now a fairly consistent trend of slower inflation in the USA while flash inflation data from some European countries this week showed continuing though small growth. The energy crisis in most of the eurozone isn't having quite as catastrophic effects as some had predicted last summer because the prices of oil and gas have decreased significantly from peaks last year and because this winter so far has been mostly mild or average in Europe.