Beginning our peek into May 2017 trading volumes at leading eFX trading platforms, data from institutional Forex ECN Hotspot FX indicates that May trading volumes increased slightly by just over 1% MoM from April, clocking in at $28.1 billion average daily volume for the month.
Hotspot's figures would have been even higher – $29.9 billion, to be precise – if we excluded two sort-of trading days during May: May 1, or May Day, during which most European and some Asian traders are on vacation, and May 29 which was the Memorial Day long weekend Monday in the US.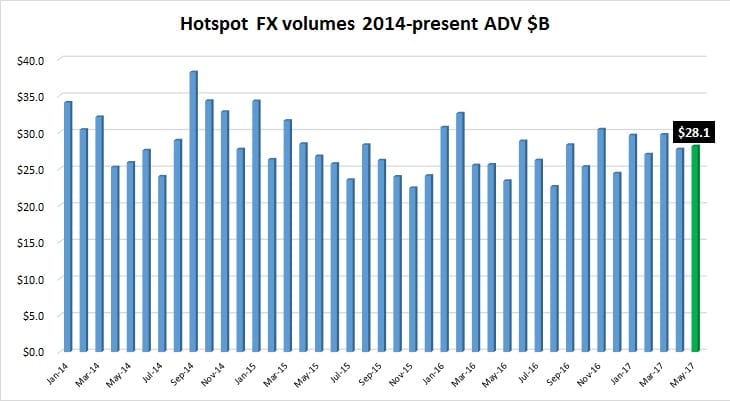 Hotspot's May figures begin a parade of what we believe will be fairly flat volume reports in the FX sector, following what was a fairly weak April after a record March at many of the leading retail and institutional eFX venues, including record results seen in March at some leading FX brokers and institutional trading venues.
May 2017 marks the third month that Hotspot FX was operating under the corporate umbrella of its new owner, CBOE Holdings Inc. (NASDAQ:CBOE). CBOE acquired control of Hotspot FX via its $3.2 billion takeover of Bats Global Markets Inc at the end of February. CBOE wasted no time in rebranding its Forex ECN unit as: Hotspot – a CBOE company.