Online broker Saxo Bank has reported its client metrics for the month of January, which saw the Copenhagen-based company have its best month ever with total trading volumes of $495.8 billion.
Saxo's multi-asset strategy paid off handsomely in January, with client trading activity in all of its segments – FX, Equities, Commodities and Fixed Income – reporting near or best-ever activity levels, all well above average 2017 figures.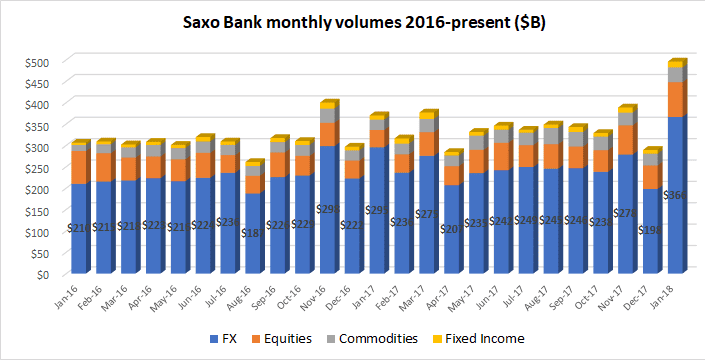 Leading the way, of course, was Saxo Bank's core FX trading business which generated volumes of $366.3 billion – well above Saxo's average monthly FX volumes of $245 billion for 2017.
Equities trading totaled $81 billion in January, up 54% from 2017's monthly average of $53 billion.Commodities volume was $35 billion, and Fixed Income $14 billion.
Outside the volumes arena Saxo Bank has had a very busy start to the year, with Saxo Bank's new ownership group working fast to reshape the company. Saxo Bank announced a deal to sell its Danish private banking business Privatbank for $60 million. Saxo also continued to add senior talent, hiring Sberbank executive Damian Bunce as its new Chief Client Officer and HSBC executive Ulrik Ross as Head of Group Treasury.