Copenhagen based multi asset broker Saxo Bank has announced its March trading volumes. And, in line with what we have seen at other leading Forex and Online brokers so far, March was a very good month at Saxo Bank.
Overall, trading volumes at Saxo Bank were up 19% MoM in March, totaling $376.7 billion – Saxo Bank's second best month over the past two years.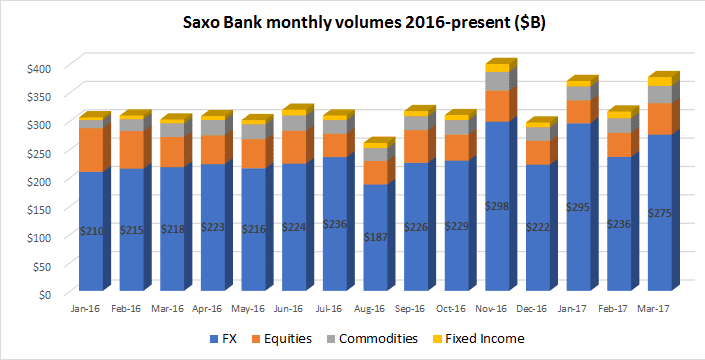 The data also show that Saxo Bank saw double-digit percent growth in all asset categories, led by Equities at 29% and Fixed Income at 25%. While FX still accounted for 73% of volumes at Saxo ($275 billion), the bank must be pleased with the continued growth of the 'other areas' it has been actively promoting to its traders the past few months.
As we reported last month, Saxo Bank is now breaking down its monthly volume results across its four major asset classes – Commodities, Equities, Fixed Income, and of course FX. We'd note that in making an apples-to-apples comparison, some of the products measured are traded in lots or contracts, and need to be converted into a notional dollar equivalent for purposes of presenting the volumes by category.