Retail Forex broker Saxo Bank has changed the way it reports its monthly trading volumes, dividing out figures between four major asset classes – Commodities, Equities, Fixed Income, and of course FX.
The Copenhagen-based broker has been actively promoting to both retail and institutional clients the multi-asset nature of its offering, and this latest added layer of transparency is, we believe, meant to provide some numbers behind the promotion.
So what do the numbers show?
Well it seems as though Saxo Bank has indeed been somewhat successful at growing its non-FX businesses over the past year (see graph below). Fixed income volumes, still the smallest portion of Saxo Bank's offering, have doubled. Commodities volumes are up about 20%, while Equities volumes are flat. Overall, FX still accounts for 75-80% of Saxo Bank's volumes.
In terms of updated trading figures (Saxo Bank had last reported volumes for December 2016), Saxo Bank had a fairly strong start to the year, with January 2017 volumes topping all months of 2016 except November, which saw very strong trading levels across all asset classes following the US Presidential election. February was somewhat slower, with overall activity down 15%, in line with volume declines we have seen at other leading retail and institutional eFX platforms.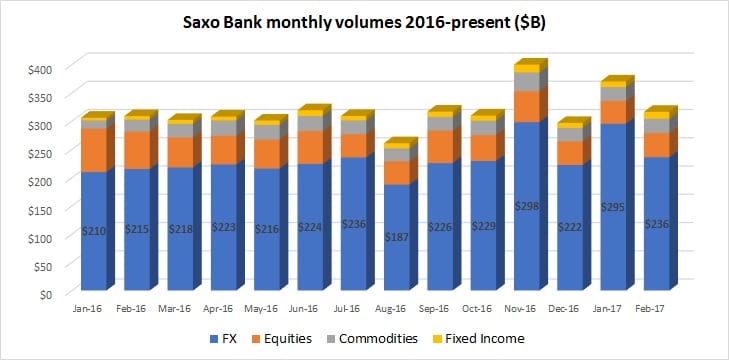 We'd also note that in making an apples-to-apples comparison, some of the products measured are traded in lots or contracts, and needed to be converted into a notional dollar equivalent for purposes of presenting the volumes by category.