Facing trouble both at home and abroad, X Trade Brokers Dom Maklerski SA (WSE:XTB) nevertheless has issued preliminary results for Q1-2018 indicating record Revenues and Profits for the Warsaw based company.
X Trade Brokers, which operates Retail Forex broker XTB.com as well as the X Open Hub trading platform, reported that Q1 2018 Revenues came in at PLN 113.7 million (USD $33.0 million), nearly double the PLN 58.7 million XTB saw in Q1 last year.
Bottom line Net Profit was also a quarterly record PLN 59.5 million (USD $17.3 million) in Q1. For all of 2017 XTB earned PLN 93.0 million.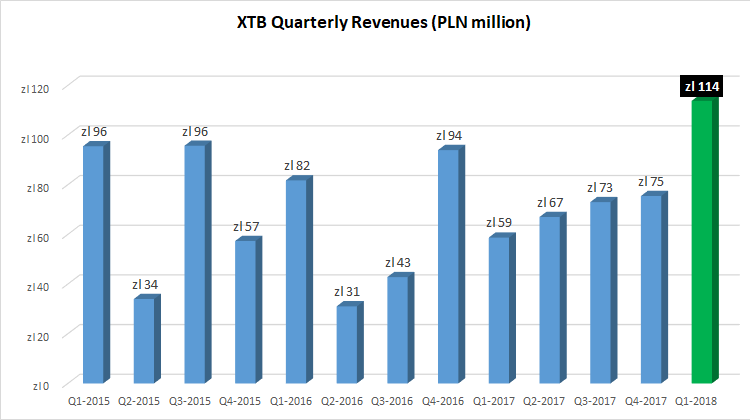 The healthy Q1 results come as welcome news for XTB, which is facing an investigation at home from Polish financial regulator KNF involving claims of fraud and asymmetric slippage, while the company has struck back claiming it is being blackmailed. The company is also exiting the Turkish FX market, once one of the company's most important outside of Eastern Europe, which was reported by LeapRate back in December.
Back to Q1…
XTB attributed the increase of Revenues to both an increase of transaction volumes measured by number of lots traded, and in profitability per lot. XTB opened 15,910 new accounts during Q1 – down slightly from 16,530 in Q4-2017 – but still saw a record number of active clients during the quarter, 25,279. XTB management stated that it sees the greatest potential for business growth in the German, French and Latin America markets.
Looking at revenues by product, stock index CFDs continued to dominate during Q1 representing 57.5% of XTB Revenue. Currency pair CFDs amounted to 29.2% of total revenues, with the most popular currency pair being the EURUSD.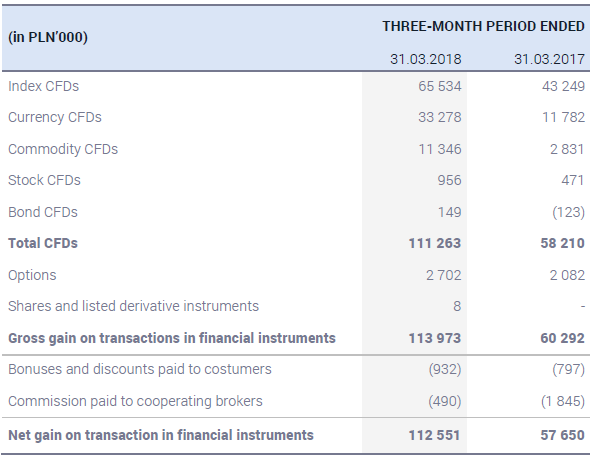 Geographically, XTB brought in 26.7% of its Revenues from its home market of Poland, up from 18.1% in Q1-2017. Second largest market is Spain, at 18.0%. XTB also said that Latin America is also gaining in importance, and that it has already replaced the gap in Turkey.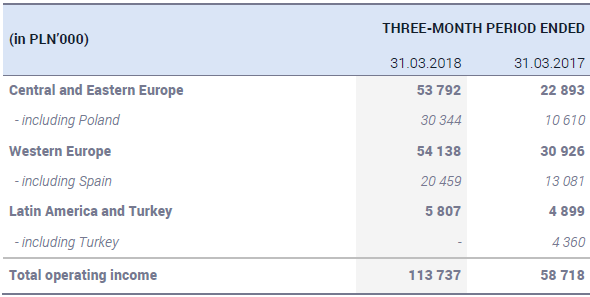 Retail traders accounted for 91% of Revenues, Institutional 9%.
Looking forward, XTB stated that it plans further development by expanding its customer base and product offer, penetrating existing markets and expanding geographically to new markets in Africa and Asia, as well as Latin America, using its presence in Belize as a starting point for expansion and business development in other countries of the region.
XTB's preliminary Q1 2018 report can be seen here (pdf).