FCA regulated Forex and CFD broker Plus500 Ltd (LON:PLUS) has indicated in regulatory filings that it acquired 120,000 of its own shares in open market transactions last week, as the beginning moves of a planned $10 million share buyback.
In total, Plus500 spent £657,159 (USD $839,000) in Week 1 of the buyback, spreading the purchases fairly evenly throughout the week.

Plus500 announced earlier this month that it is initiating a share buyback programme, with the Board approving a buyback of up to $10 million of the company's shares through to August 31. Plus500 has appointed Liberum Capital Limited to manage the programme.
Shares of Plus500, alongside those of other UK Forex and CFD market leaders such as IG Group Holdings plc (LON:IGG) and CMC Markets Plc (LON:CMCX), were hit hard and nearly cut in half late last year after UK regulator The FCA proposed new rules governing leveraged trading, including a hard 50x leverage cap on new and existing positions. The FCA has yet to announce its final decision, as noted above, receiving a deluge of industry and trader input after the proposals were announced.
Plus500 shares have since recovered somewhat, but still set well below their 52 week high of near £8 set last September.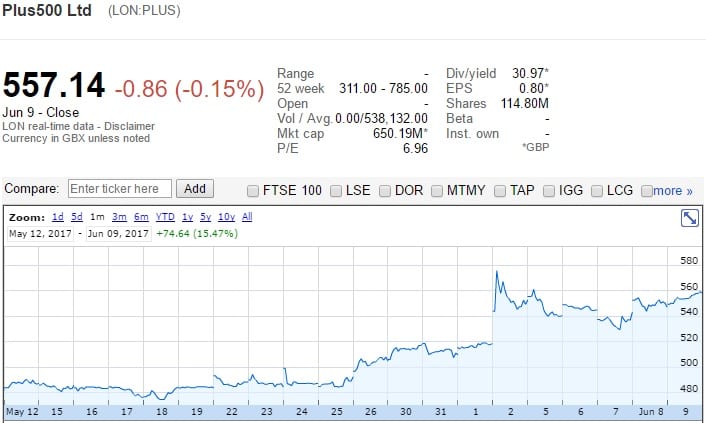 Plus500 share price, past month. Source: Google Finance.