After a worrisome first quarter in which Revenues plummeted to their lowest level since early 2013, global FX brokerage house Gain Capital Holdings Inc (NYSE:GCAP) has reported a much better set of results for Q2-2017.
Overall, Revenues at GAIN Capital increased by 65% over Q1 to $98.1 million, much more in line with what the company had done previously (see chart below). Most importantly, GAIN Capital's retail FX unit Forex.com had a very nice bounce-back with Revenues of $79.1 million in Q2 more than double Q1's $38.9 million.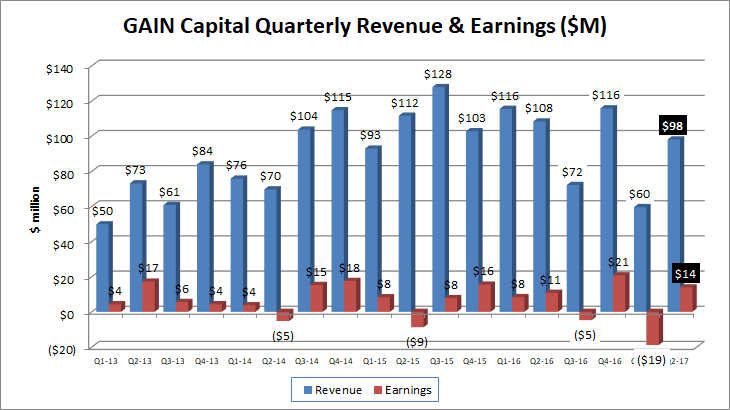 On the bottom line, GAIN Capital posted healthy net earnings of $13.9 million in Q2, versus a Q1 loss of $18.9 million.
For the month of July, Retail FX volumes at Forex.com came in at $204.5 billion, 15% below's June's strong showing of $241.8 billion, basically in line with what we have seen so far from leading eFX venues.
To us the 'big picture' seems fairly bright at Forex.com and at its parent company. Costs levels have been brought down such that the company is making decent money even in a slow volume environment. Each of employee comp, referral fees, trading expenses, and G&A expenses were well down in the first half of 2017 as compared to 2016.
And, the company's acquisition strategy is paying long term dividends, with a much larger client asset base after the purchase in February of FXCM's US clients, for a fairly paltry sum of $5.1 million.
According to Glenn Stevens, CEO of GAIN Capital:
I am pleased to report strong results for the second quarter, largely driven by increased customer engagement. The year-over-year growth in our bottom line and stable adjusted EBITDA margin of 27% underscore the impact of our fixed cost savings initiative, which remains on target for a total cost reduction of $15 million in 2017 and run rate savings of $20 million in 2018. We believe that this initiative, coupled with increased client retention and acquisition through investments in customer-focused technology and opportunistic acquisitions, will ultimately enable us to grow margins, generate additional free cash and drive value for our shareholders.
GAIN Capital's full press release on its Q2 results and July FX volumes can be seen here.