Retail forex broker Gain Capital Holdings Inc (NYSE:GCAP) has reported what can only be described as a horrific quarter to begin 2017.
Q1-2017 results were poor across the board at what is now the leading US-based retail forex broker. And, weak volumes reported for April don't necessarily portend for a better Q2.
Revenues at GAIN Capital came in at $59.6 million for the quarter – down a whopping 49% from Q4's $115.8 million. Revenues for the company's Forex.com Retail FX brand were down from $96.2 million in Q4 (and about the same in Q1 last year) to just $38.9 million in the quarter.
Overall, this marks the lowest quarterly revenues for GAIN Capital since Q1-2013 – even though in the time since then the company has made a few notable acquisitions, namely City Index in the UK and FXCM's US client assets.
Not surprisingly, the steep drop in revenues hit the bottom line hard, with the company posting an EBITDA loss of $13.4 million in Q1, and a Net Loss of $18.9 million. In Q4 the company posted a $21 million Net Profit.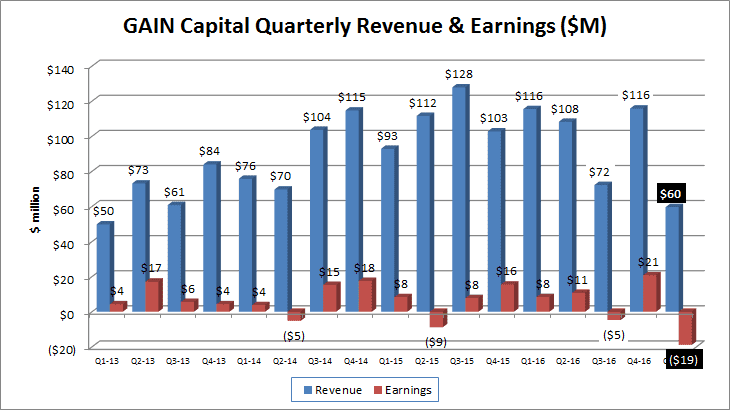 In its Q1 report GAIN Capital shed some light on its acquisition of FXCM's US client assets, which brought on board over $140 million in new client assets. GAIN Capital paid out just $5.1 million to FXCM for its US clients – roughly the amount we estimated that GAIN would eventually pay ($4-5 million). The formula for payment to FXCM was $500 per client which trades in the first 76 calendars days at Forex.com after transfer, and $250 per client which trades in the following 77 days.
Looking forward to Q2, GAIN Capital reported April Retail FX volumes of $185 billion, and institutional volumes of $231 billion. Nothing wrong with the institutional figure, but the retail volume figure dropping below $200 billion is a big disappointment, marking Forex.com's second slowest month in the past four-plus years.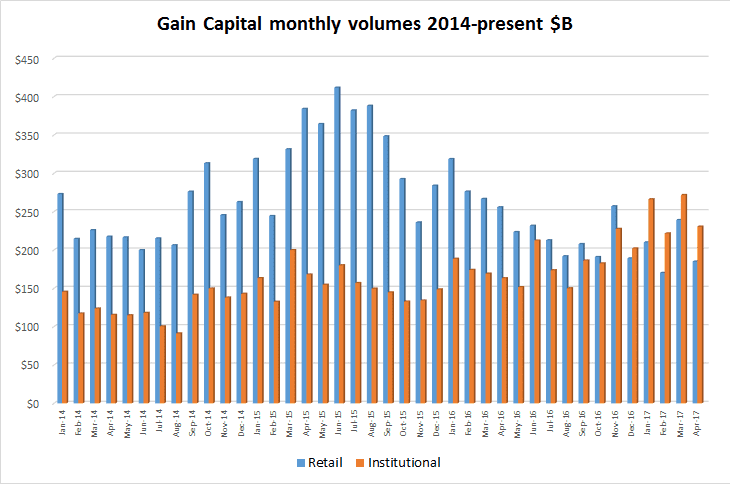 Glenn Stevens, CEO of GAIN Capital, had the following to say:
Although the first two months of the year presented challenging market fundamentals for our business, characterized by low volatility and narrow average trading ranges, we remain optimistic about the growth prospects for the company.

Market conditions improved in March and have continued to improve in April, with revenue capture returning to a normalized level consistent with our trailing twelve month average of $107 per million. Strong Q1 retail operating metrics, highlighted by 18 percent growth in client assets, reflect the opportunity for market share gains as we optimize our position as the #1 provider of retail FX in the U.S. As we look at ways to reduce costs and more efficiently allocate capital, we continue to focus on our organic growth strategy, investing in product enhancements and customer acquisition and retention initiatives to drive increased engagement and expand our global reach.
GAIN Capital's full Q1 report press release can be seen here.