After reporting record trading volumes of $334 billion to open 2018 in January, FCA and CySEC licensed Retail FX broker Exness saw something of a slowdown during February, with volumes retreating by 13% in February to $290.5 billion.
We would note, however, that there were two less trading days in 28-day February than January (20 trading days, versus 22), so on an average daily volume basis February was nearly identical to January.
To put things in context in another way, for 2017 overall Exness averaged monthly FX trading volumes of $269 billion, so $290.5 billion still ranks as one of Exness' best ever months.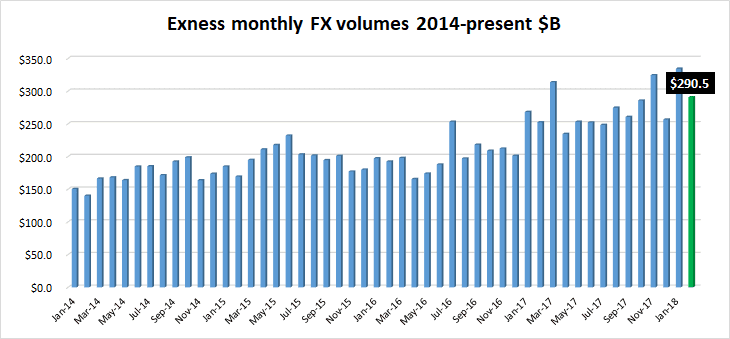 Exness saw 43,626 active traders in February, down slightly (4%) from 45,317 from January.
Exness' February result does contrast somewhat with what we have seen so far from the leading institutional FX venues, some of which – (GTX from Gain Capital, FXSpotStream, and Cboe FX (Hotspot) – reported best ever results last month.
Exness has its volume, client withdrawal and partner rewards figures audited on a quarterly basis by global accounting firm Deloitte. The Deloitte Independent Assurance Report for the most recent quarter (Q3-2017) for Exness can be seen here (pdf).
Mid last year Exness completed the upgrade of its FCA license in the UK to 'IFPRU €730k'. This means that the company can now trade with its clients as principal without the matched limitation. Having acquired its full scope license, Exness UK is set to expand its global reach by becoming fully operational in the coming months.