LeapRate Exclusive… LeapRate has learned via regulatory filings that BlackRock, Inc. (NYSE:BLK) has upped its position in UK online broker IG Group Holdings plc (LON:IGG) to over 9%.
New York based BlackRock is the world's largest asset manager, with more than $5 trillion in assets under management. IG Group is the UK's largest online broker, offering Forex, CFDs and shares trading.
Shares of IG Group, as well as the shares of some of its key publicly traded competitors in the UK online brokerage market such as CMC Markets Plc (LON:CMCX) and Plus500 Ltd (LON:PLUS), were hit hard late last year after UK financial regulator The FCA proposed tightened rules for Forex and CFD trading – primarily a leverage cap of 50x for traders and a ban on bonus payments by brokers to clients.
While IG shares have recovered somewhat from the initial hit they took, they are still well (about 47%) below their 52 week high of £9.67. And that, despite IG recently reporting record revenues for its most recent financial quarter.
BlackRock is not alone among big-league investors in thinking that the stock market may have over-reacted in punishing online broker shares.
We recently reported that Morgan Stanley increased its position in #2 UK CFD broker Plus500 to 6.5%, while UK investment manager Odey Asset Management LLP, which has long had a significant stake in Plus500, increased its position to above 23%, also betting on a turnaround.
We also reported that Norwegian central bank Norges has taken a 3% position in CMC Markets.
Back to BlackRock and IG…. based on filings made with UK regulatory authorities, it appears as though BlackRock acquired just over 7 million IG Group shares for more than £36 million this past Monday, February 20.
Most of BlackRock's current position in IG, or about 27.3 million shares, is held directly while another 5.5 million are held in the form of CFDs. BlackRock's total current position in IG of more than 33.7 million shares is worth approximately £173 million (USD $215 million).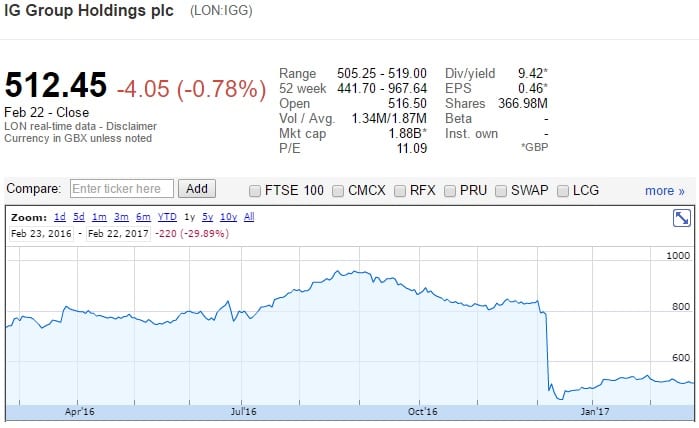 IG Group one year share price graph. Source: Google Finance.