LeapRate Exclusive… Watch out FCA regulated FX and CFD brokers, here they come.
LeapRate has learned that Betfred's new entrant in the FX and CFD brokerage space, TradeFred, is expanding with a soon-to-be-launched EU regulated entity in Cyprus.
TradeFred has also already expanded its international footprint with a live operation in Australia.
And, the company has also launched its its own affiliate program and website called Boost Markets at boostmarkets.com.

As was exclusively reported at LeapRate in June, UK bookmaker and online gaming giant Betfred, which operates over 1,650 shops throughout the United Kingdom, made a decision late last year to expand into online financial trading, and launched a new retail forex and CFD trading website called, appropriately, TradeFred. TradeFred began its life as an offshore, Vanuatu based and licensed company. However we reported at the time that the company had already begun the process to receive other regulatory licenses in the EU, and elsewhere abroad.
TradeFred went live in Australia last week with tradefred.com.au. The company's Australian subsidiary BrightAU Capital Pty Ltd is acting as an introducing broker (or more formally, a Corporate Authorised Representative) of ASIC licensed USGFX's parent company Union Standard International Group Pty Ltd.
We have also learned that TradeFred has set up a subsidiary in Cyprus, and will be announcing shortly that it has received a CIF license from Cyprus financial regulator CySEC. The CySEC license, passported to the EU via MiFID, will allow TradeFred to take clients from European countries and from its home UK market, something it cannot do now as a Vanuatu company.
And, as noted above, TradeFred has launched a new affiliate program and website called Boost Markets to support the growth of TradeFred. Boost Markets is offering both CPA and Revshare deals to affiliates. The company is offering up to $650 CPA payments, depending on which countries referred clients come from, or 10% Revshare agreements to "Master Affiliates".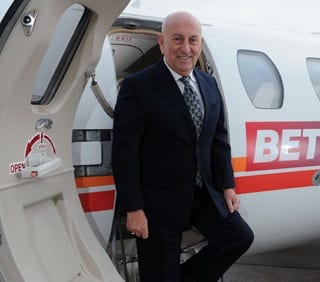 TradeFred is technically owned by a company called TradeFred Holdings Limited in the UK, formerly known as BrightFX Capital Limited, with its Vanuatu subdidiary company called MagicPath Capital Ltd. TradeFred is controlled by Fred Done, Betfred's co-founder and owner. TradeFred writes on its website that it is "powered by the Betfred Group."
TradeFred also owns a Manchester, UK based company called PathMagic Capital Limited, where TradeFred has an additional permanent location to conduct business activities in Europe. The only director listed for PathMagic Capital Limited, which was incorporated late in 2016, is ActiveWin CEO Warren Jacobs. ActiveWin is a large online marketing firm, also controlled by Fred Done. The directors listed for TradeFred Holdings include Mr. Done and Mr. Jacobs as well as Betfred's Head of Corporate Finance Paul Kirszanek, and Israel based online marketing and e-commerce consultant Alex Mishiev.
TradeFred is offering trading on the MT4 platform, but may be preparing its own custom platform, in conjunction with Betfred. Although it began as an offshore broker, TradeFred is limiting leverage to its clients to 50x (2% minimum margin), in line with new proposed rules issued late last year by CySEC and the FCA, although the FCA has put its plans on ice until pan-European financial regulator ESMA comes out with its own recommendations, expected early next year.
As part of the company's planned launch in the UK once licensing is finalized and activated, Betfred has signed to be a shirt sponsor of Tier 2 "Championship" league football club Bolton Wanderers FC, with TradeFred named as "Official Financial Trading Partner".