Mati Greenspan, Senior Market Analyst at FX broker eToro, has provided his daily commentary on traditional and crypto markets for November 30, 2018. Highlights include:
Crypto Rally Stalls, BTC Could Test Support: BTC dipped below $4,000 this morning, giving back about half of its gains from this week. If it continues to drop today, it could test a support level at $3,500. Bitcoin has strong support at $3,000.
Crypto World Surprised By ICO Ruling: A judge in California ruled that the SEC didn't prove that an ICO is a security offering — a surprise for industry participants who had assumed that the SEC was the sole decision maker in ruling which offerings are securities.
Markets Look to G20 For Answers: US-China hawk Peter Navarro will attend the dinner held by Donald Trump and Xi Jinping, reducing the chances of a deal being struck between the two countries. Meanwhile, oil traders will watch for a deal between Putin and Saudi officials that would decrease production and drive the oil price back up.
Stocks have been having a great week so far (last five candles to the right) but Thursday was a bit of a dud. At least the Dow Jones is holding above its 200-day moving average (blue line) for now.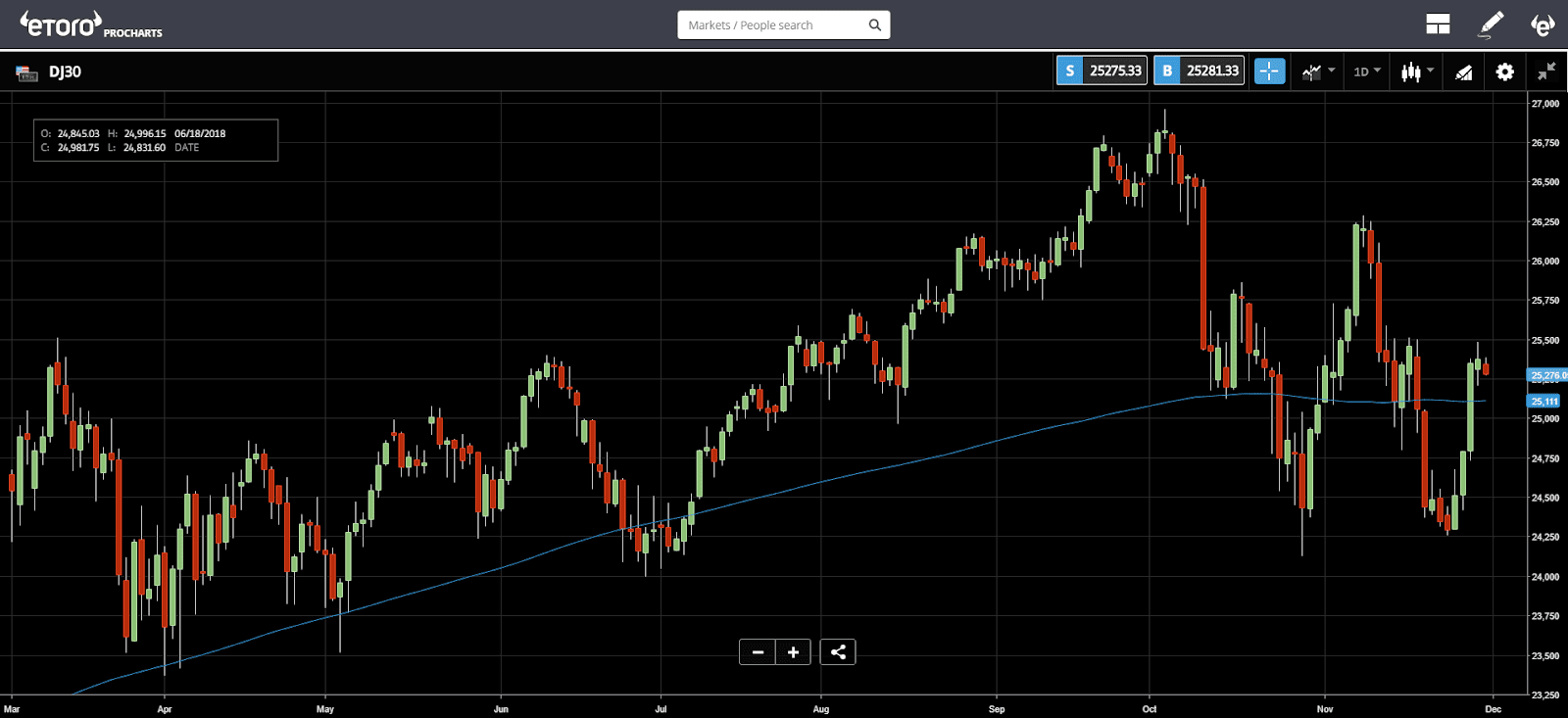 Oil traders will also be watching for a meeting between President Putin and Saudi officials. Putin had previously indicated that he was happy with the current prices of oil, but that was when it was at $60 a barrel. Now that it's dipped below $50, it's possible he'll reconsider and try to strike a deal to decrease production.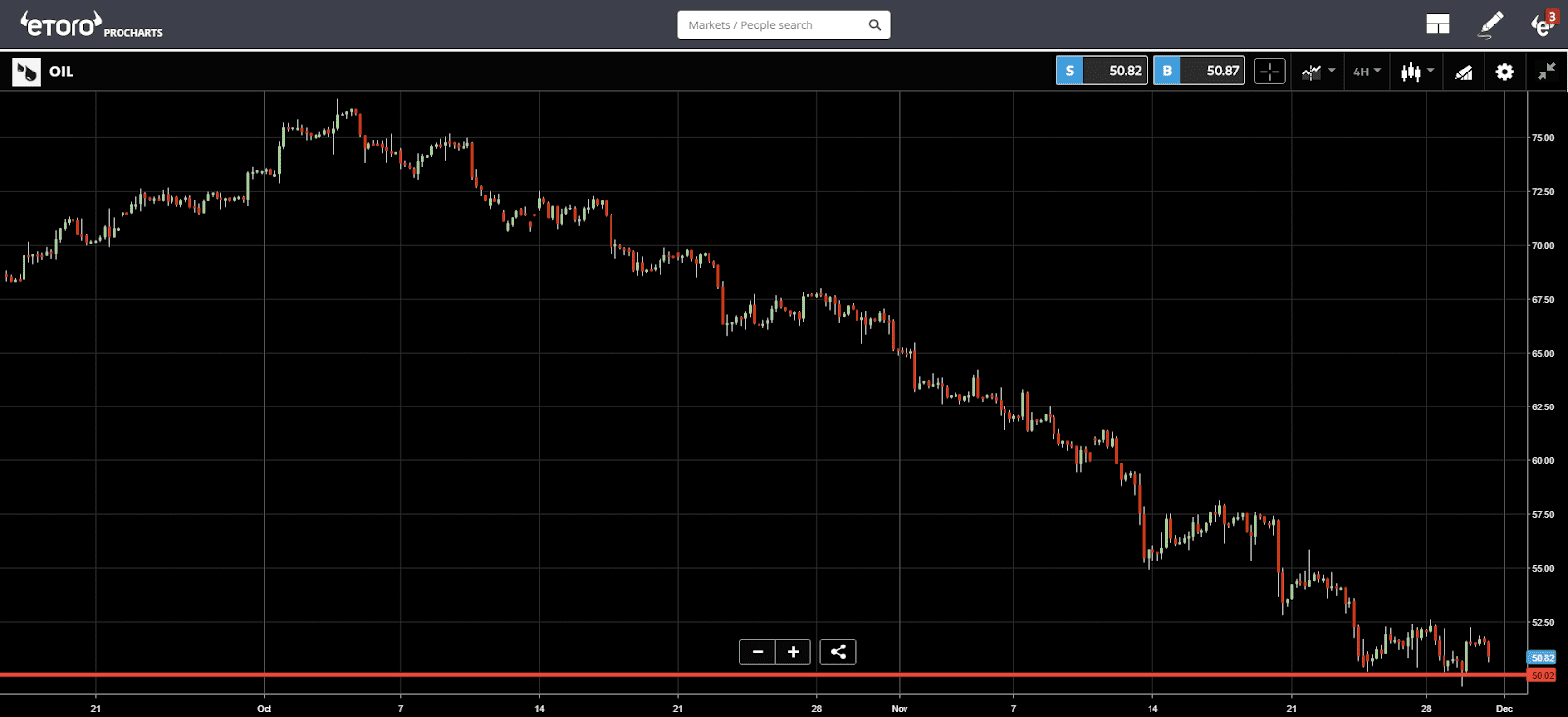 Keep an eye on the markets today, as the geopolitical climate is far from predictable.
Crypto In-line
In line with what's happening in the stock markets, the cryptos have shown a strong push off the floor this week but have stalled a bit in the last 24 hours.
Unlike the stocks, cryptos can be traded through the weekend and will likely not be influenced at all by the G20 meetings.
As I'm writing, bitcoin has fallen below $4,000 again giving back about half the gains accumulated this week. If it doesn't turn around soon, it's very possible we could get another test of the yellow line at $3,500.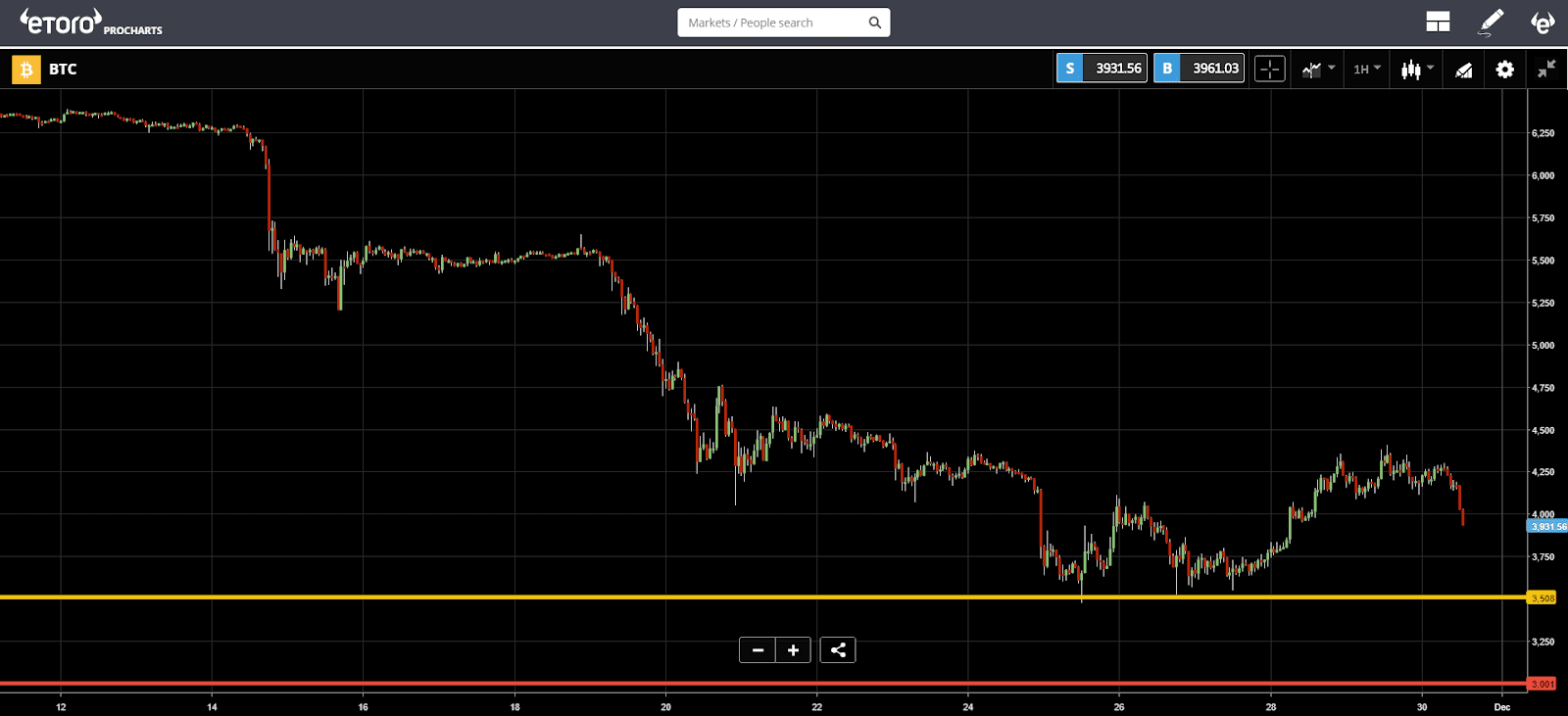 If it holds- that would be really great but if it does manage to break we have strong support coming at $3,000 per coin.
---
The Fed changes strategy
The US Federal Reserve Bank changes strategy from well-telegraphed monetary decisions to a more data dependent, on-the-go approach. Starting next year, Jerome Powell will hold eight press conferences, compared to only four this year, as Arnaud Masset, Swissquote Group Holding SA (SWX:SQN) expert, pointed out earlier today.
Investors' opinion about inflation grows more negative than ever. The 2-year breakeven inflation rate eased more than 50bps to 1.285% in less than two months. EUR/USD stabilised around 1.14, but have in mind to keep an eye on the Brexit negotiations, as well as Italy/EU clash.