Mati Greenspan, Senior Market Analyst at FX broker eToro, has provided his daily commentary on traditional and crypto markets for December 3, 2018. Highlights include:
BTC, Blockchain Jobs In Demand Despite Bear Market: Mike Novogratz recently commented that it's difficult to build a business in a bear market. Bull markets present challenges of their own for building a business. Despite market conditions, bitcoin and blockchain job demand continues to rise.
Breakthrough in US-China Trade Talks: Stock markets are going wild following a trade truce by China and the U.S. at the G20 summit. Meanwhile, markets have not yet been influenced by protests against increased fuel taxes and removed wealth taxes in France.
Automotive Sector Rises on Trump Tweet: Global markets are all performing well, led by the automotive sector which has been rising following a tweet from Donald Trump that announced reduced and removed tariffs on cars imported to China from the U.S.
Saudis Agree to Curb Oil Output: Vladimir Putin and Crown Prince Mohamed Bin Salman came to an agreement to curb oil output. Further details will likely emerge this week when OPEC meets in Vienna.
Traditional Markets
Yes, the Asian session has been fantastic. The European stocks are on the up too. But it all started with futures markets, which opened last night with a sizable gap up.
Here we can see the Dow Jones, where the difference between the closing price on Friday and the opening price on Sunday night was more than 400 points. For reference, the blue circle is the Dow's all-time high.
The Automotive sector seems to be performing the best today, most likely due to an unsubstantiated tweet from President Trump…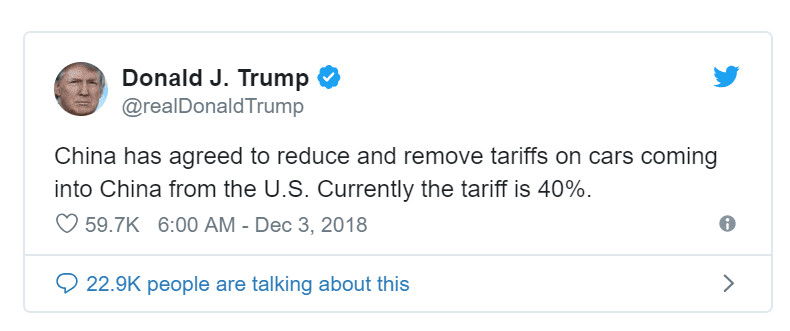 The currency markets confirm that the markets are optimistic. As you can see, the safe haven currencies are sinking today.
Crude Side Show
Another thing that many people were watching going into the G20 was the meeting between Vladimir Putin and Crown Prince Mohamed Bin Salman, who did come together and agree on a renewed effort to curb oil output.
Details of the plan are still pretty thin but we can almost certainly expect this line of discussion to continue throughout the week as OPEC meets in Vienna this Thursday and Friday. Even though the United States has upped their output recently, the cartel still holds plenty of power over the prices.
As far as the price is concerned, we now find ourselves in the range from $50 to $60 a barrel, and well below the 200 day average.
Crypto Light
As prices remain under pressure, one of Wall Street's greatest crypto advocates Mike Novogratz has gone on record saying that…

You can read Mike's full comments in the Financial Times.
Novogratz has also recently predicted that the bull market in crypto will pick up in early 2019, and we hope he's right about that but I would like to counter his above statement…
It's difficult to build a business in any market environment. Sure, a bear market brings on challenges but so does a bull market.
It's almost impossible to expand a business when you have hundreds of thousands of new customers all trying to open their account at once. Some online exchanges barely made it through this period and at eToro we only managed by reallocating a large portion of our employees to assisting with onboarding new clients.
In any case, the crypto industry is shining brightly at the moment. Despite the bear market and broader market conditions, blockchain projects are hiring at a rapid pace. This recent study from Glassdoor.com confirms that bitcoin and blockchain roles have never been in greater demand.