ASIC and FCA licensed Retail FX broker AETOS Capital Group have provided their daily commentary on traditional markets for May 21, 2019. 
---
EURUSD
The euro strengthened on Monday, closing at 1.1168(+4 pips) against the greenback. Risk-averse headlines dominated the news feeds, although most of them related to familiar issues, named the US-Sino trade war and Brexit, failing to provide a fresh catalyst. Current account for the euro for the month of March came out slightly better than expected, being €35.1 billion, beating market expectation €0.6 billion.
The current account surplus in the Euro Area narrowed to EUR 35.1 billion in March 2019 from EUR 43.9 billion in the corresponding month of the previous year and compared with market expectations of a EUR 34.5 billion surplus. The goods surplus declined to EUR 30.5 billion from EUR 34.2 billion a year earlier and the services surplus fell to EUR 7.0 billion from EUR 8.3 billion. Also, the primary income surplus dropped to EUR 10.4 billion from EUR 16.0 billion last year, while the secondary income deficit shrank to EUR 12.7 billion from EUR 14.6 billion. The economic calendar is fairly quiet today for the euro dollar pair.
EURUSD 4 Hour Chart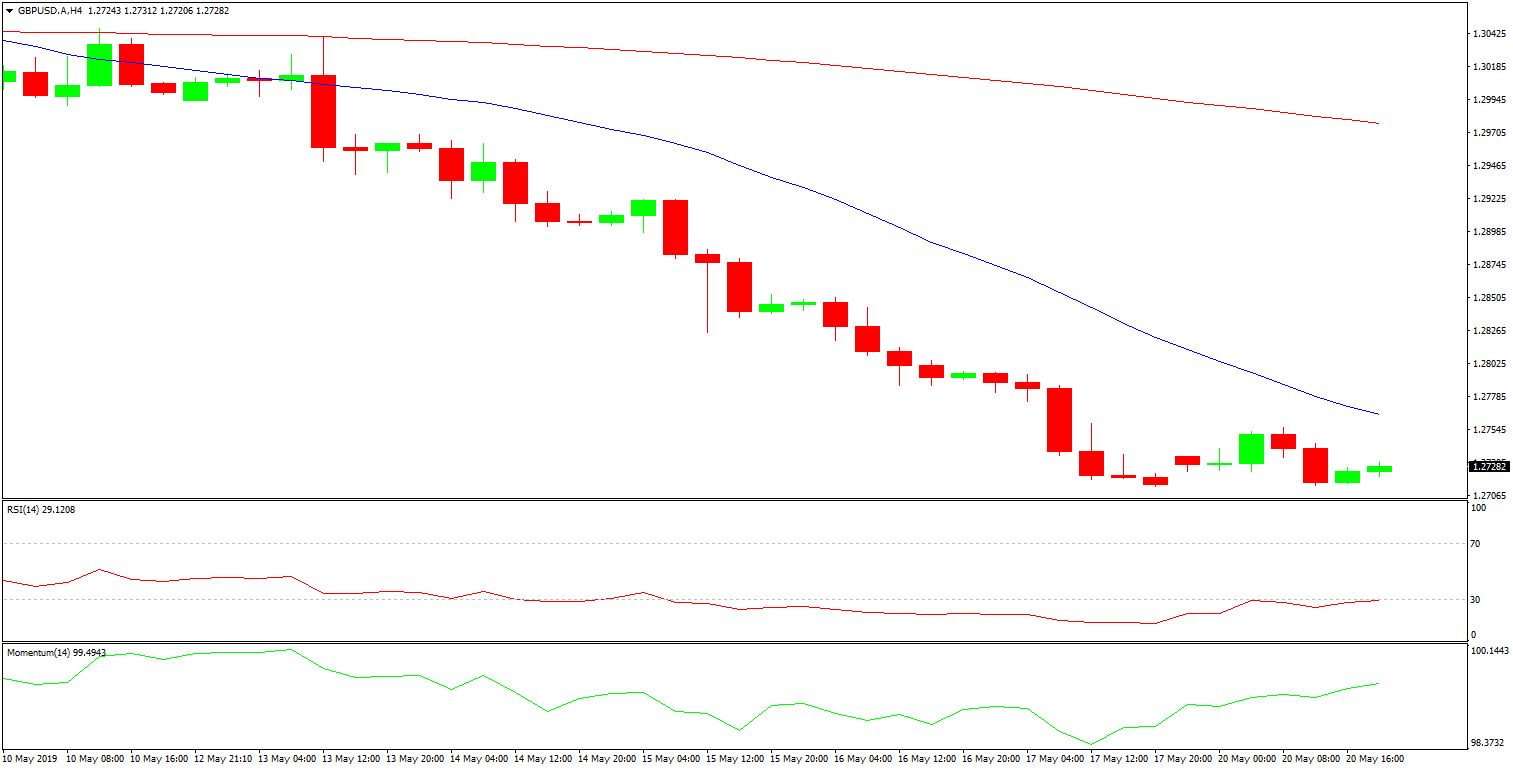 In the 4 hours chart above, it indicates that the 20 SMA keeps heading south below the larger ones and above the current level, the Momentum indicator remains weak well into negative ground, while the RSI corrected up to the current 42 level, now losing upward strength, all of which maintains the risk skewed to the downside.
GBPUSD
The Pound closed marginally lower on Monday, closing at 1.2728(-1 pip) against the greenback. No new news on the Brexit´s disruptive situation came out yesterday, although it kept weighing on the Sterling bearish sentiment ahead of European Parliamentary elections later this week. Tories and Labours have been working on attracting voters, rather looking to replace PM May rather than solve the Brexit stalemate situation. However, the latest polls in the kingdom show that three in five voters are disappointed with politics, with the two parties running neck and neck, painting a more gloomy future for the UK and the GBP. On Monday, BOE's Deputy Governor Broadbent hit the wires, although the only relevant remark he made is that UK business investment trends are still negative, a result of Brexit uncertainty. This Tuesday, the only macroeconomic even scheduled is the CBI Industrial Trends Survey on Orders for May, seen unchanged at -5.
GBPUSD 4 Hour Chart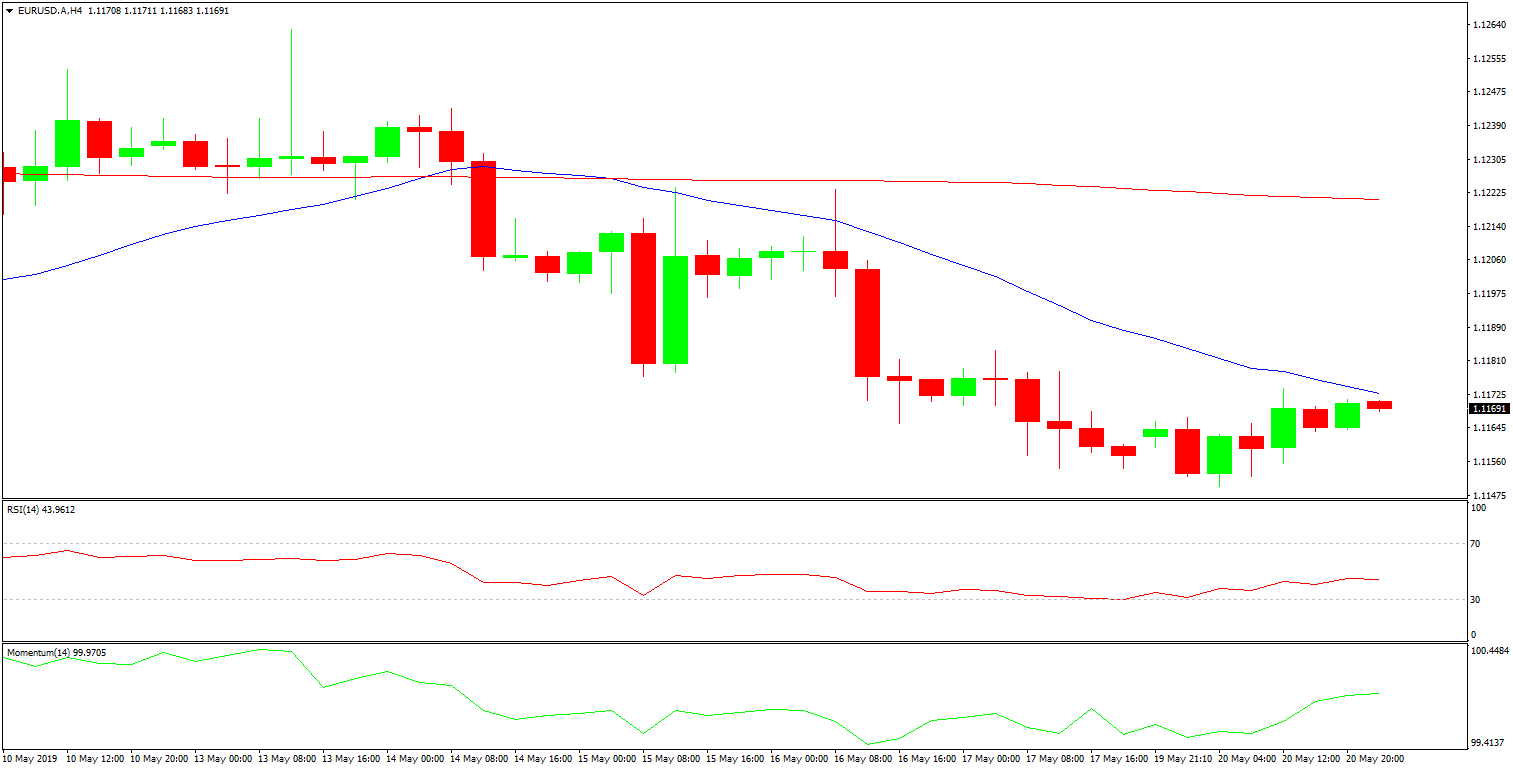 The 4 hours chart for the GBP/USD pair shows that the RSI was unable to surpass the 30 level(currently at 28), while the Momentum indicator lost directional strength, holding flat well into negative ground. The 20 SMA(Blue Line) in the mentioned chart has extended its slide, maintaining a strong bearish slope currently at around 1.2785, while the 200 EMA(Red Line) also turned lower, although some 300 pips above the current level. The risk of further declines will become more evident on a break below 1.2705 the immediate support.
Major Economic Events happening this week (AEST Time Zone)
| | | | |
| --- | --- | --- | --- |
| Economic event (Date) | Previous | Forecasted | Actual |
| JP- GDP Growth Rate QoQ Prel (20 May) | 0.4% | -0.1% | 0.5% |
| AU- RBA Meeting Minutes (21 May) | N/A | N/A | N/A |
| EA- Consumer Confidence Flash May (22 May) | -7.9 | -7.6 | TBA |
| JP- Balance of Trade April (22 May) | ¥529B | ¥203.2B | TBA |
| GB- Inflation Rate YoY April (22 May) | 1.9% | 2.2% | TBA |
| US- FOMC Minutes (23 May) | N/A | N/A | N/A |
| DE- GDP Growth Rate QoQ Final Q1 (23 May) | 0% | 0.4% | TBA |
| DE- Markt Manufacturing PMI Flash May (23 May) | 44.4 | 44.8 | TBA |
| DE- Ifo Business Climate May (23 May) | 99.2 | 99.0 | TBA |
| JP- Inflation Rate YoY April (24 May) | 0.5% | 0.4% | TBA |
| US- Durable Goods Orders MoM April (24 May) | 2.7% | -2% | TBA |
---
Risk Disclaimer
The information above is of general nature only and does not take into consideration your objectives, financial situation or investment needs. The products and services provided are issued by AETOS Capital Group Pty. Ltd. (AFSL: 313016, ACN: 125113117). Trading Forex margin and CFDs carries a high level of risk, and losses can exceed your deposits. You are strongly recommended to seek independent financial advice before you make an investment decision. Please refer to our Product Disclosure Statement which you can obtain from our website for more details. AETOS has the ownership of the contents of this FX commentary. Copying, reprinting or publishing to a third party is not permitted.