ASIC and FCA licensed Retail FX broker AETOS Capital Group have provided their daily commentary on traditional markets for May 10, 2019. 
---
AUD/USD
The AUD was relatively flat overnight, trading within a 20-25 pip range and will close around the 0.6990 mark. The longer the AUD pins itself below the key 0.7000 level the more likely it will continue south, of course, much of this is due to the Trade tensions between China and the U.S. AUD will not be a beneficiary should talks escalate and Chinese representatives leave without a Trade deal at the conclusion of the meeting.
Chinese Inflation figures also released yesterday were as expected, an increase from the previous month which is positive for the economy amid signs of a slowdown post trade numbers.
RBA Statement to be released today which will hopefully provide further insight into the tone and direction of the Reserve Bank, followed by Inflation figures released tonight in the U.S.
AUD/USD Daily Chart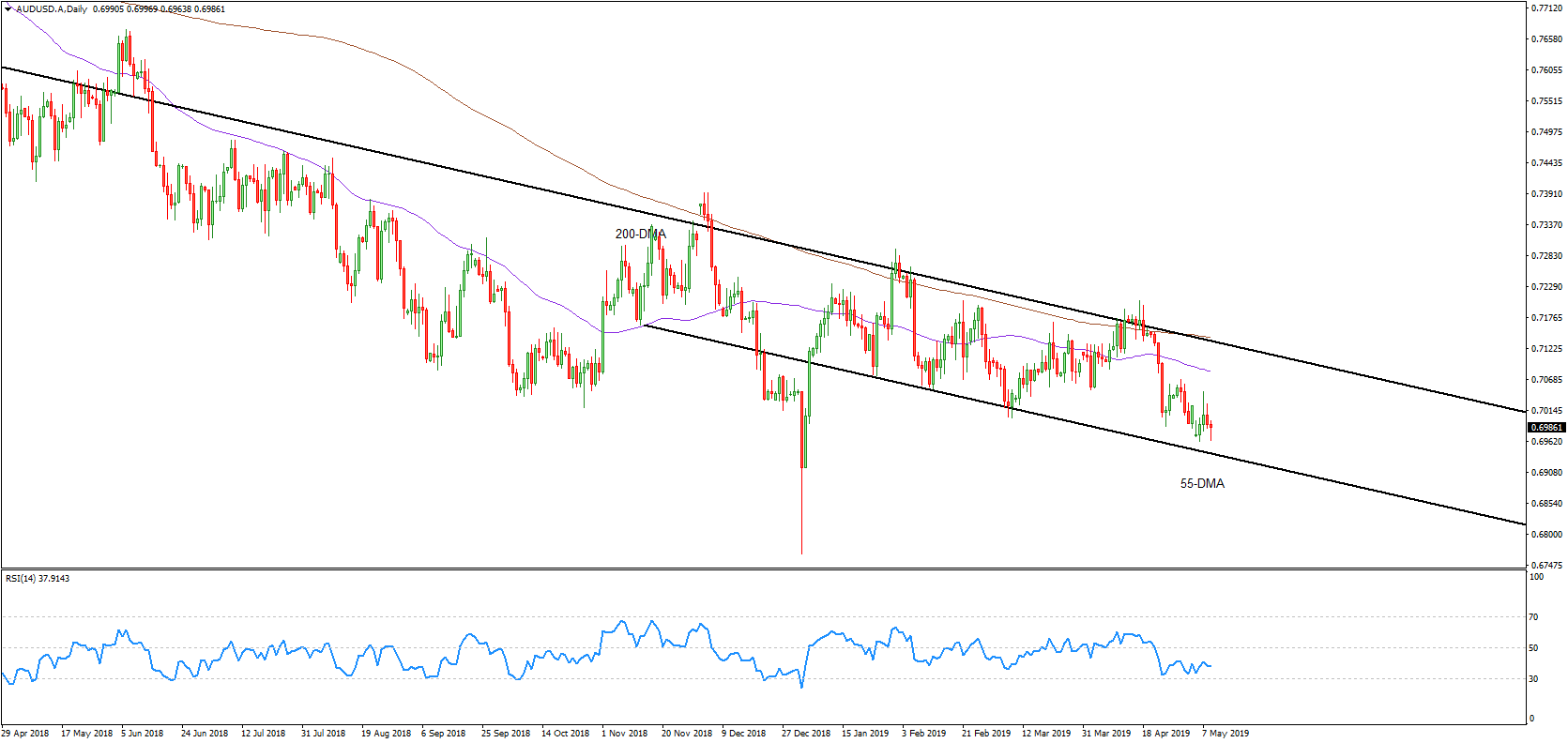 A long lower wick forms on yesterday's candle and daily RSI is somewhat rising, giving bulls a slight glimmer of hope as the pair looks to bounce from the lower channel line. Monthly RSI is falling and a doji is in place for May. Signals are mixed at the moment.
USD/JPY
Dominating headlines this week has all been about the trade talks and Trump's threat to increase tariffs and all will come to a head in the next 24 hours.
JPY has benefited by surging to a three-month high against the dollar overnight, with the Swiss Franc at a three-week high as investors sought out the safe-haven currencies. Fear of escalating talks and Chinese retaliation have eased as the pair has not produced the volatility expected from a trade war.
Traders seem to be on the sidelines until Chinese and U.S. officials confirm whether talks were positive and if a deal can be finally made.
The JPY was 0.35% stronger overnight, having pared back some of its gains to trade at 109.80. Money has definitely been parked in JPY and CHF with some investors predicting both safe havens have further to run (Reuters).
U.S. President Donald Trump has since said that steps are being taken to authorize new tariffs on $325 billion in Chinese imports as officials begin talks to avert an escalation of a trade war, which threatens to derail the global economy.
USD/JPY Daily Chart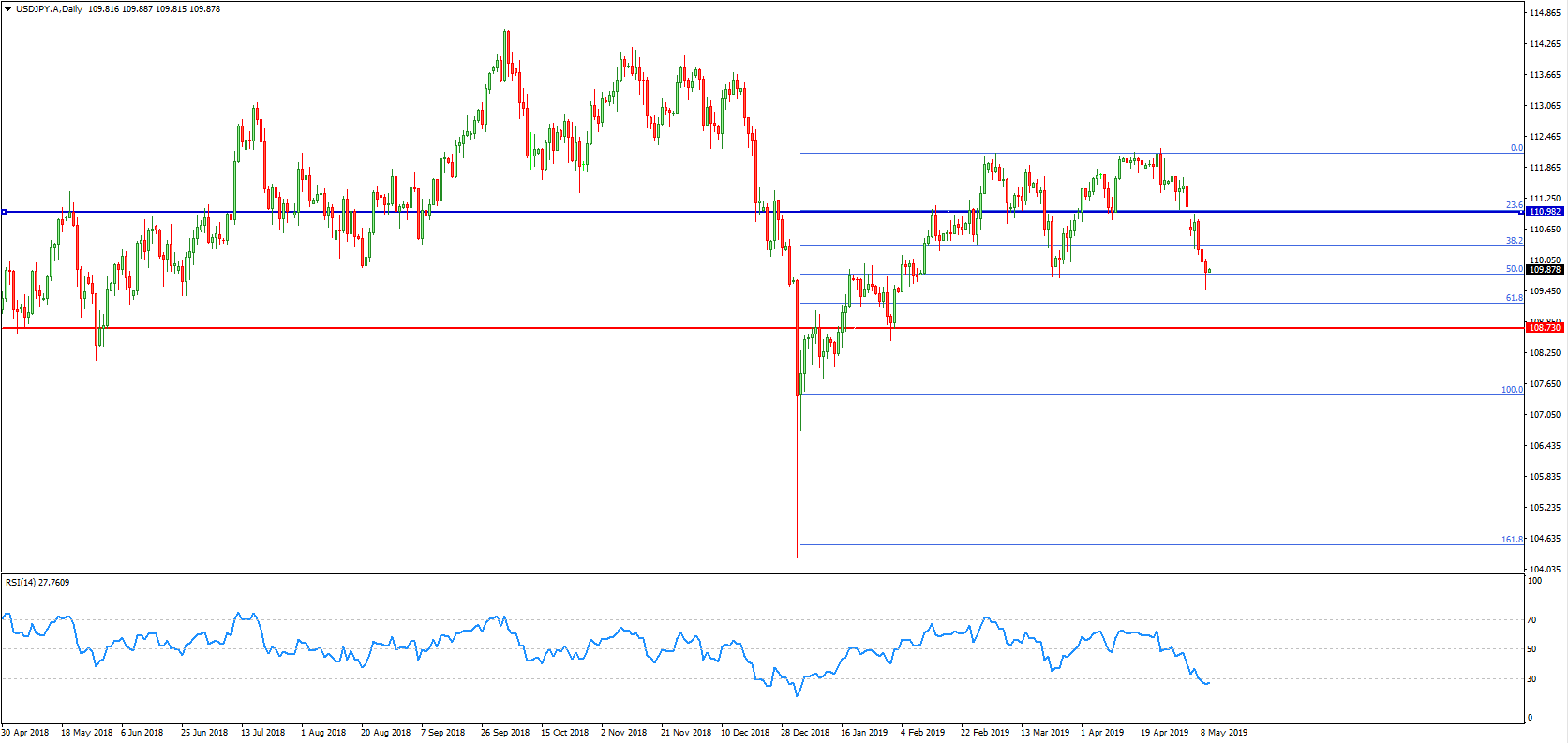 Breakdown continues, today taking out the 109.70 March low as bearish momentum suggests further weakness towards February's low of 108.73. Oversold daily RSI triggers a rebound, however much of the moves from here will be driven by sentiment and trade news.
Major Economic Events happening this week (AEDT Time Zone)
| | | | |
| --- | --- | --- | --- |
| Economic event (Date) | Previous | Forecasted | Actual |
| AU – Balance of Trade (7 May) | A$4.801B | A$4.25B | A$4.949B |
| AU – RBA Interest Rate Decision (7 May) | 1.5% | 1.5% | 1.5% |
| CA – Ivey PMI (8 May) | 54.3 | 51.1 | 55.9 |
| CN – Balance of Trade (8 May) | $32.67 | $35 | $13.84B |
| CN – Exports YY (8 May) | 14.2% | 2.3% | -2.7% |
| CN – Imports YY (8 May) | -7.6% | -3.6% | 4% |
| CN – Inflation Rate YY (9 May) | 2.3% | 2.5% | 2.5% |
| CA – Balance of Trade (9 May) | C$-2.9B | C$-2.3B | C$-3.21B |
| US – Balance of Trade (9 May) | $-49.4B | $-51.4B | $-50.0B |
| DE – Balance of Trade (10 May) | €17.9B | – | – |
| GB – Balance of Trade (10 May) | £-4.86B | – | – |
| US – Core Inflation Rate YY (10 May) | 2% | 2.1% | – |
| US – Inflation Rate YY (10 May) | 1.9% | 2.1% | – |
---
Risk Disclaimer
The information above is of general nature only and does not take into consideration your objectives, financial situation or investment needs. The products and services provided are issued by AETOS Capital Group Pty. Ltd. (AFSL: 313016, ACN: 125113117). Trading Forex margin and CFDs carries a high level of risk, and losses can exceed your deposits. You are strongly recommended to seek independent financial advice before you make an investment decision. Please refer to our Product Disclosure Statement which you can obtain from our website for more details. AETOS has the ownership of the contents of this FX commentary. Copying, reprinting or publishing to a third party is not permitted.