TMX Group Limited (TSX:X) announced December 2017 trading statistics for its marketplaces – Toronto Stock Exchange, TSX Venture Exchange, TSX Alpha Exchange (Alpha) and Montréal Exchange (MX).
MX achieved two new volume records for the S&P/TSX 60 Index Standard Futures (SXF) – a monthly record of 959,682 contracts traded, as well as a daily record of 211,811 reached on December 11, 2017.
A new monthly open interest record for SXF was also achieved with 446,494 contracts on December 12, 2017.
Several of MX's key products set yearly volume records of contracts traded, including:
The Three-Month Canadian Bankers' Acceptance Futures (BAX) reached 28,962,355 contracts
The Ten-Year Government of Canada Bond Futures (CGB) reached 23,946,703 contracts
The Five-Year Government of Bond Futures (CGF) reached 358,078 contracts
SXF reached 6,144,651 contracts
The Options on Three-Month Canadian Bankers' Acceptance Futures (OBX) reached 801,051 contracts
All TMX Equities Marketplaces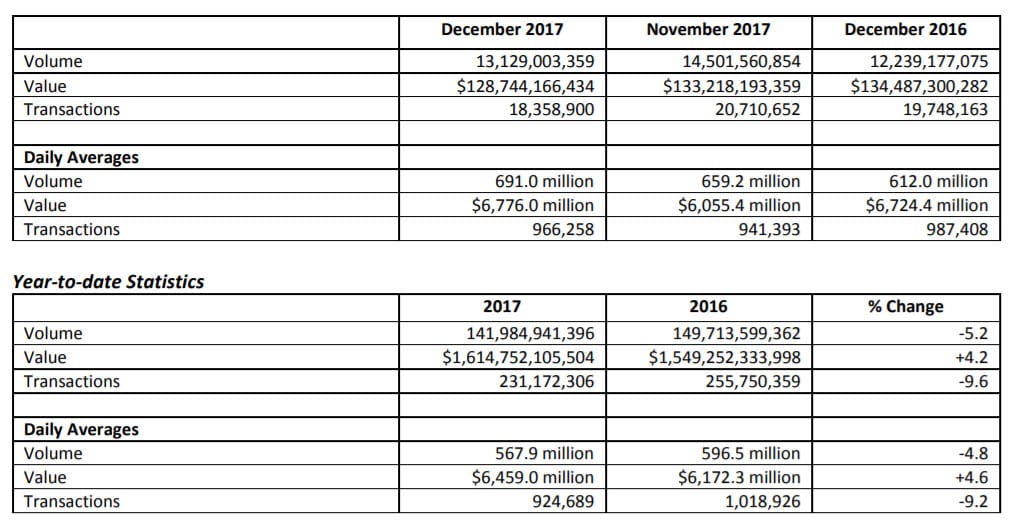 The complete report can be seen here.