The following article was written by AMarkets, a St. Vicent & the Grenadines (FSA) regulated global forex broker established in 2007.
---
We will thoroughly analyze current stages of bitcoin development and make our assumptions what rally to expect from it this year.
Mid-May, bitcoin is in its phase of protracted correction, losing more than 50% of its maximum values of December 2017. The news background does not bode well and in the foreseeable future we do not see any bullish news to come up, except for the recent Consensus conference. But we are talking about cryptology, a very specific class, an asset that is prone to speculation and it often happens that the price of bitcoin triggers news, and not vice versa.
The vast majority of analytics publishing their forecasts on the Internet don't take into account a very important factor: the cyclicity and regularities that bitcoin demonstrates year after year, simply because a year or two ago cryptocurrency trading and analysis were made by a tiny community of "geeks" and innovation enthusiasts. In turn, these patterns can tell us a lot about summer prospects for bitcoin, as well as other coins with large capitalization, which will almost invariably follow it.
In this article, we will take a closer look at what the "summer season" was for Kriptonka in the previous years, to which trends we should pay special attention, as well as mention an important piece of news that will serve as an excellent catalyst not only for bitcoin, but for all the first five cryptocurrencies.
Let's start with this small news with possibly big impact
About a month ago , SBI Holdings, the financial services division of Japan's SBI Group, shared its plans to launch its own cryptocurrency exchange. In 2016, through its venture capital arm SBI Investment, SBI Holdings became one of the world's biggest conglomerates, serving traditional finance operations, that invested in bitcoin exchange Kraken. Later, the Japanese financial group also became the lead investor in bitFlyer. It should be noted that the project of its own stock exchange SBI Holdings was announced as early as 2016, but the implementation was postponed due to security problems. According to another version, the delay was caused by the usual reluctance to become a pioneer in this field. Given how many hacker attacks the newly traded exchanges took a couple of years ago, the SBI Holdings decision to delay the launch seems incredibly prudent and wise. One event that will boost three crypto-currencies at once . Apparently, at the current stage SBI Holdings, from the experience of others, is ready to return to the old project. According to the president of the company Yoshitaki Kitao:
The new exchange will become the leading platform in the blink of an eye, so that even if a huge number of customers come, we will be able to build a system that can withstand it.
Such statements rely on a unique and ultra-reliable security system. Yoshitaka also suggested that BMI, ETH and BTC coins will be used as exchange currencies at the SBI Holdings exchange, and XRP will become the transfer currency. According to preliminary data, the new exchange may be launched by the end of the third quarter of 2018. Considering that a month ago SBI Holdings purchased 40% of the Taiwanese hardware purse of CoolBitX, the infrastructure for currency storage is almost ready. If the SBI management is really able to convince investors that their site is the most reliable in the world, the influx of new customers, and, accordingly, liquidity, will create an excellent base for the multiple growth of Ripple, Bitcoin Cash and air. The main thing is to be ready for this in advance.
Let's proceed to the detailed analysis of the past years
2017 year
Last year was definitely the year of triumph for the cryptocurrency: huge growth, media coverage, tens of thousands of new customers and new crypto-exchanges opening every week. Bitcoin definitely came out to the masses and showed 173% growth from May 15 to the end of August, with a particularly dynamic trend that begins exactly in the mid-May and at the beginning of summer.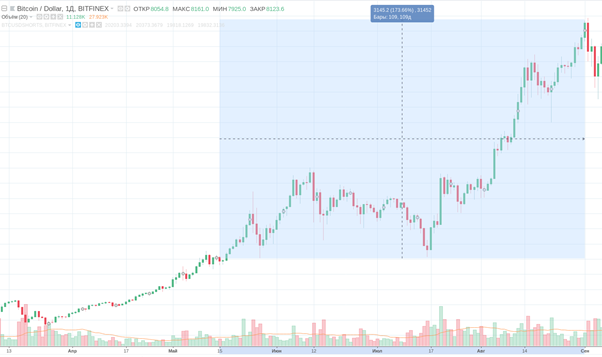 2016 year
The most impressive chart in this article, look at this insane rally, which began in mid-May! 80% growth in a month, even taking into account strong correction in June, the overall financial result bitcoin purchases in early summer would have been 18%.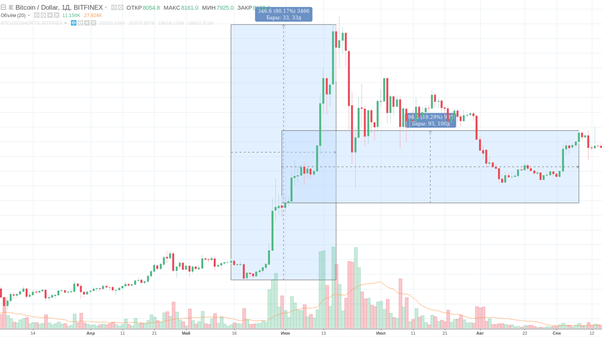 2015 year
Here we see a picture similar to 2016, albeit in a smaller volume: a fast and steady growing trend that began as scheduled on the first day of summer and lasted more than one and a half months, followed by a wave of correction to the original levels. With the right broker trades could be profitable betting both on growth and on fall.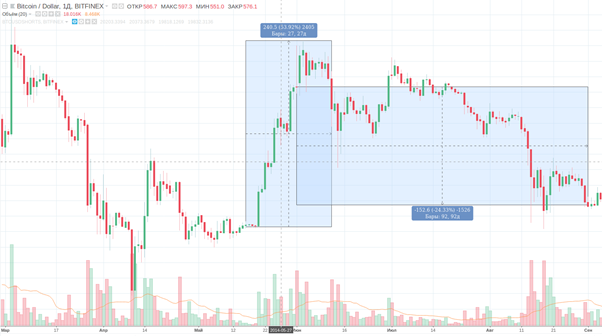 2014 year
The last summer season in our retrospective, I'm sure you already see the similarity: in mid-May, the bitcoin rockets 54% up in less than a month, and then during the whole summer adjusts to its initial levels.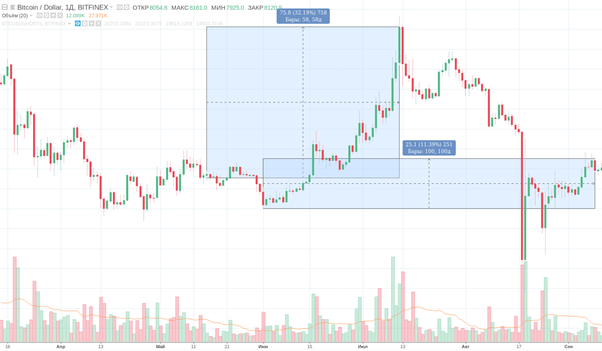 We can with high probability assume that the beginning of this summer season  will please traders with dynamic trends and high volatility. Bitcoin needed some time for consolidation after the massive collapse, and having consolidated at key levels a bit below $ 8000, bitcoin is waiting for a huge number of pending purchase orders and an army of buyers, for whom it becomes an attractive asset at a reasonable price with strong growth potential again.
And finally, let's pay attention to two charts with different timeframes.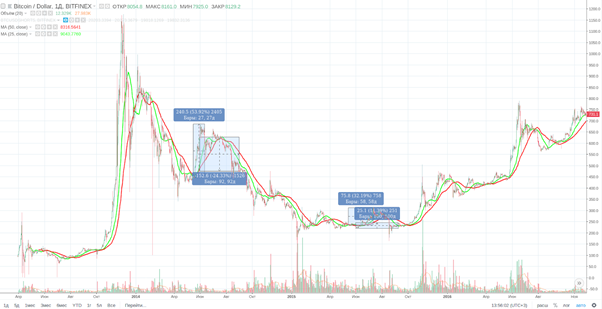 Look at this large-scale and prolonged decline from the price peak at the end of 2014, I'm sure that many traders thought it was a complete collapse for bitcoin and cryptocurrency in general.
And now look at how insignificant this time period looks on the chart with a larger time frame, it's hard to even notice it at all.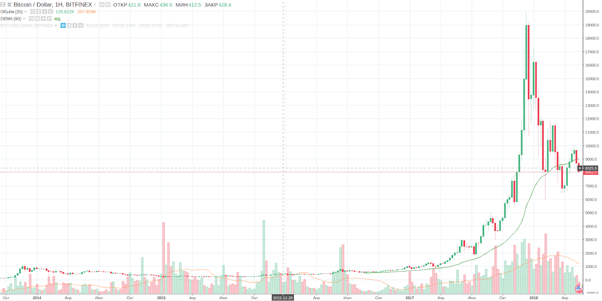 Bear in mind these two charts, when another skeptical analyst calls the recent drop the largest. Time will come and the magnitude of the 2018 fall will look just as insignificant in comparison with the current trend.
If you want to earn trading the cryptocurrency, you will need brokerage services. For example, you can contact  AMarkets, a regulated broker, which provides protection of traders funds up to 20 thousand euros per case, and has been recently audited by Ernst & Young, a reliable auditing firm, which confirmed financial viability of the company.
At the moment AMarkets offers for trading 15 major crypto currencies, including bitcoin, ether (ETH / USD), litecoin (LTC / USD), Ripple (XRP / USD) and Monero (XMR / USD).