Mati Greenspan, Senior Market Analyst at FX broker eToro, has provided his daily commentary on traditional and crypto markets for May 28, 2019. The text below is an excerpt and does not contain the full analysis.
---
The stock market is shrinking!!
According to researchers at Citigroup, the US stock market has dwindled by a total of 2.3%.
This trend is known as de-equitization and it's caused by companies that take out loans in order to buy back their own shares or buy out other companies through mergers and acquisitions, essentially taking them out of the public.
The overall theme here is that debt is actually a much more effective way of raising money these days than offering shares on the public market. Thanks to central bank action, interest rates are low and liquidity is plentiful. So if companies need money, they may be better off going to the bank than to Wall Street investors.
The ultimate effect of this is that a dwindling supply of shares increases demand and share prices tend to go up. It's a great time to be an investor.
---
Today's Highlights
Bitcoin Surge Driven by Familiar Crowd: Institutional crypto investment vehicles are set to come online soon but not yet available. This indicates that the current bull run is driven by those who are already familiar with crypto.
Low Rates Shrinking Stock Market: New research shows that the US stock market has shrunken 2.3% since the beginning of 2018. Low rates are making debt a more effective way of raising money, so companies are taking on debt and buying back shares.
Political Upsets Don't Bother Markets: May, Merkle, and Macron lost ground to more right-wing and/or green/fringe parties, but markets held steady globally.
EOS, Tron, Ethereum Gear Up for Eventful Weekend: Three of the largest smart contract networks will hold large scale events on Saturday.
Traditional Markets
Speaking about shrinkage, it seems that some of the largest parties in the EU have lost some of their power. At least that's what I understood from these elections.
May, Merkel, and Macron all seem to have fared poorly and lost ground to more right-wing and/or green/fringe parties.
Financial markets don't seem too shaken up by all of this though. The Asian session was pretty positive and so far things are holding steady in Europe. Will be interesting to see what mood New York investors will be in as they come back from their long weekend.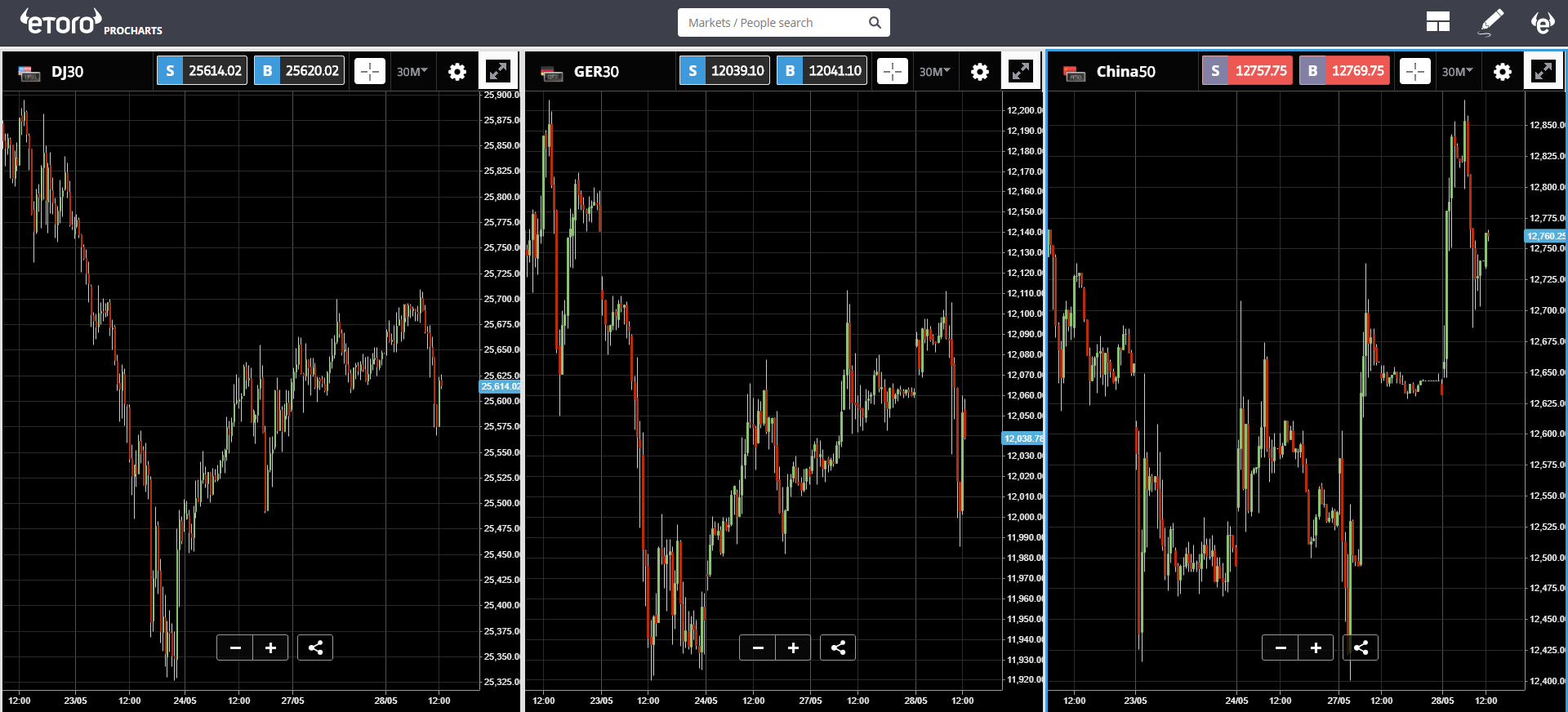 dApp Weekend Ahead
The crypto market seems to be gearing up for an eventful weekend, and I'm not just talking about price action.
This Saturday, June 1st it seems three of the largest smart contract networks will be holding large scale events. Both EOS and Tron have mystery announcements planned while Ethereum will be holding a conference call between two of the top developers who will share their respective plans for the future of the network.
Speculation is rampant on social media about what exactly will happen in each of the respective events, here are some of the top theories.
EOS and block.one are definitely gearing up for something big. Word is, the EOS dev team may be looking to go big by offering a decentralized alternative to Facebook.
Whatever it is they're planning, it's clear that block.one is gearing up to devote a large portion of the network's computing power to it.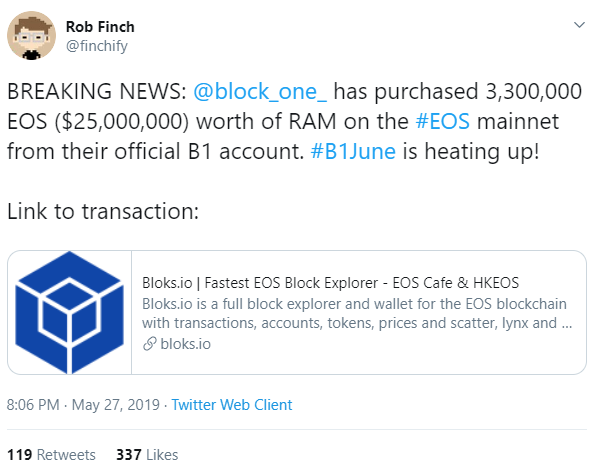 With Tron, it seems that a lot of the guesswork has been done for us. Though Justin Sun has done a lot of work building up the suspense for the June 1st announcement, it seems that he just couldn't contain himself and may have just let the cat out of the bag.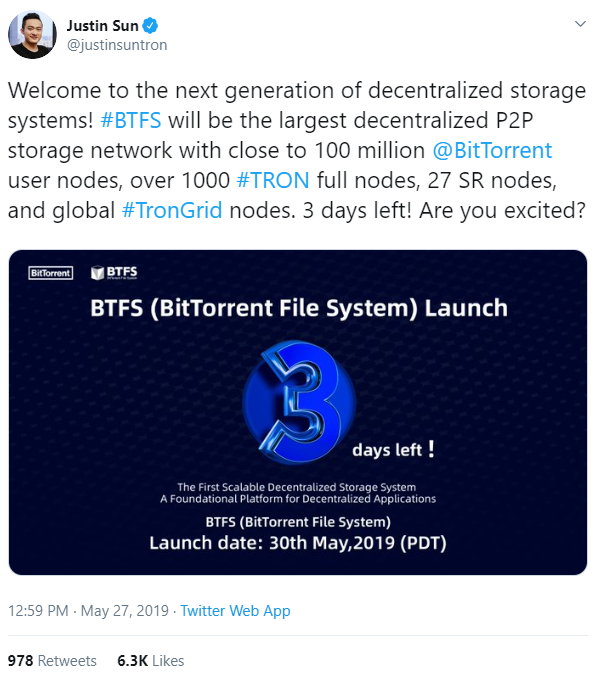 Still, though it's clear from all the responses on the above tweet that the network is excited, I'm struggling to understand what the announcement here is.
For Ethereum, the network is at a much different stage. Ethereum is currently the largest network for decentralized applications. The more pertinent question here is how will the network scale?
Two of the main players, Vitalik Buterin and Vlad Zamfir, seem to have slightly opposing views on how to get this done. So this weekend they'll sit together on a panel and hash it out. This should be interesting.
Bitcoin Demand
As far as I can tell, the recent surges in bitcoin are mainly based on the supply side. There's already a shortage of bitcoin in the world and with the halving event coming up next may, the countdown to even less supply has already begun.

Still, with the supply side being constant many analysts like to focus on the demand, a much more variable metric.
So far, during this rally searches for 'bitcoin' on Google have been relatively tame so far, as has coverage in the mainstream media. At the same time, the data that I've seen seems to indicate that volumes on the crypto-to-crypto exchanges are outpacing those on fiat-to-crypto exchanges.
We understand that institutional investments could soon push crypto past a point of no return but at the moment they remain largely uninvolved. Services by Fidelity, Bakkt, and the Nasdaq will likely come online soon but the doors have not yet open. For now, the only real way to invest from Wall Street is the CBOE futures contracts, which are not actually backed by BTC.
Therefore, it is our base assessment that the current bull run is being driven by those who are already familiar with crypto. People who got involved during the last bull run or before are very likely increasing their day to day blockchain activity.
This means both investing in crypto as prices seem to be low for now but also could be coming from developing countries. Ultimately, every time I ask social media where the demand is coming from, the resounding answer seems to be "everywhere."
This article on bitcoinist.com names five different countries where FOMO seems to be the strongest at the moment but the list could probably be expanded to 20 or even 50 key regions across the globe right now.
Wishing you an amazing day ahead.
---
Mati Greenspan can be found on LinkedIn, Twitter, or etoro. 
This is a marketing communication and should not be taken as investment advice, personal recommendation, or an offer of, or solicitation to buy or sell, any financial instruments. This material has been prepared without having regard to any particular investment objectives or financial situation, and has not been prepared in accordance with the legal and regulatory requirements to promote independent research. Any references to past performance of a financial instrument, index or a packaged investment product are not, and should not be taken as, a reliable indicator of future results. eToro makes no representation and assumes no liability as to the accuracy or completeness of the content of this publication, which has been prepared utilizing publicly-available information.