Mati Greenspan, Senior Market Analyst at FX broker eToro, has provided his daily commentary on traditional and crypto markets for May 27, 2019. The text below is an excerpt and does not contain the full analysis.
---
Traditional Markets
Today is a bank holiday in the UK and in the USA. So volumes are likely to get light, especially around the afternoon when the US market usually opens.
Still, it's mostly the just the commodities and US stocks that will see a downtime. So currency markets and some of the indices should be available. Feel free to check the market hours page to be sure.
Europe is also processing the results of various elections. So far it seems that there may be some shifts to the balance of power in a few key regions. However, financial markets remain apathetic.
Just not buying it
One article that I read over the weekend kind of put things into perspective for me as far as where the stock markets currently stand on tech stocks.

If you have a WSJ subscription feel free to read it, but for those who don't I'd like to summarize a bit because this is important.
In short, the author is trying to understand why tech stocks going public these days are not doing so well. This is a trend that simply cannot be explained by market conditions alone. Rather, it's more of a reflection on the companies themselves and a growing trend of general unprofitability.
It's well known that when Amazon and Facebook went public they were not profitable. So the model has been copied by many startups who first want to reach critical mass before taking time and energy to worry about profits.
Well, it seems that the latest round of startups have been pushing the envelope. In a key graph of the article, the author demonstrates just how poor Uber's balance sheet looks in comparison with where Amazon was at this stage in its lifecycle.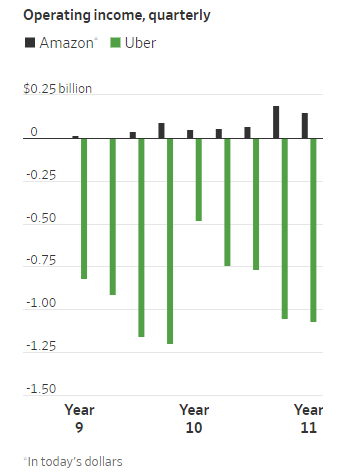 Though companies might be able to get away with burning cash in order to gain market position, what's become clear is that General Joe Public wants to see profits when he's buying a stock.
Bitcoin Use Case
Things are definitely heating up in crypto land. As we mentioned above, last night's breakout was a clear testament to the amount of momentum this market currently has and though we certainly might see a wider pullback, there are many who still think we're just getting started on the next parabolic move.
This morning I was surprised to see this article from the Financial Times.

The headline itself was not nearly as surprising as the source though. We've been talking about Argentina's role as a leader in Bitcoin mass adoption for a long time already. So to see the BTC/ARS rate at its highest ever is hardly a surprise, especially after the recent political turmoil there.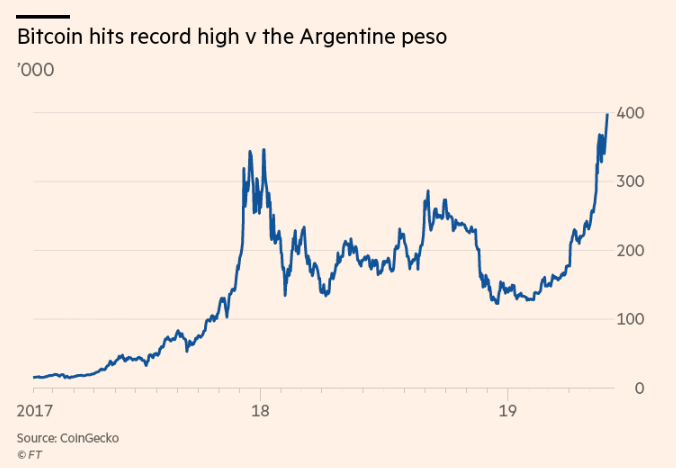 Wishing you an amazing week ahead!
---
Mati Greenspan can be found on LinkedIn, Twitter, or etoro. 
This is a marketing communication and should not be taken as investment advice, personal recommendation, or an offer of, or solicitation to buy or sell, any financial instruments. This material has been prepared without having regard to any particular investment objectives or financial situation, and has not been prepared in accordance with the legal and regulatory requirements to promote independent research. Any references to past performance of a financial instrument, index or a packaged investment product are not, and should not be taken as, a reliable indicator of future results. eToro makes no representation and assumes no liability as to the accuracy or completeness of the content of this publication, which has been prepared utilizing publicly-available information.