Mati Greenspan, Senior Market Analyst at FX broker eToro, has provided his daily commentary on traditional and crypto markets for May 7, 2019. The text below is an excerpt and does not contain the full analysis.
---
Highlights include:
Bitcoin Aims for $6,200: Bitcoin has outperformed most traditional asset classes since the beginning of 2019. It faces its next resistance level at $6,200.
FAANGs Not the Smart Play? eToro's OutSmart Nasdaq Copy Portfolio uses machine learning to pick 15 stocks that are set to outperform the Nasdaq benchmark. At the moment, the CopyPortfolio doesn't contain Facebook, Amazon, Apple, Netflix, or Google.
Nobel Economist Criticizes Crypto: Nobel prize-winning economist Joseph Stiglitz said that cryptocurrencies should be "shut down." This comment was met with ridicule in the crypto community. Meanwhile, noted crypto critic Ray Dalio will do a Reddit Ask Me Anything at 4 p.m. ET today.
Chinese Investors on Edge Over Trade Deal: Chinese stocks took their biggest single-day plunge in over two years yesterday over fears that Trump would raise tariffs again.
Traditional Markets
The stock markets are seeing a bit of a recovery this morning as analysts and investors continue to puzzle over Trump's tweets, which we highlighted yesterday.
The Chinese stock market actually saw its biggest single-day plunge in more than two years due to the possibility that Trump might raise tariffs again this Friday. So a bit of a bounce is certainly not surprising.
The Chinese stock market has been outperforming since the beginning of the year and it seems that the markets were already pricing in a trade deal between the world's two biggest economies. Even just the threat that it won't happen is putting people on edge.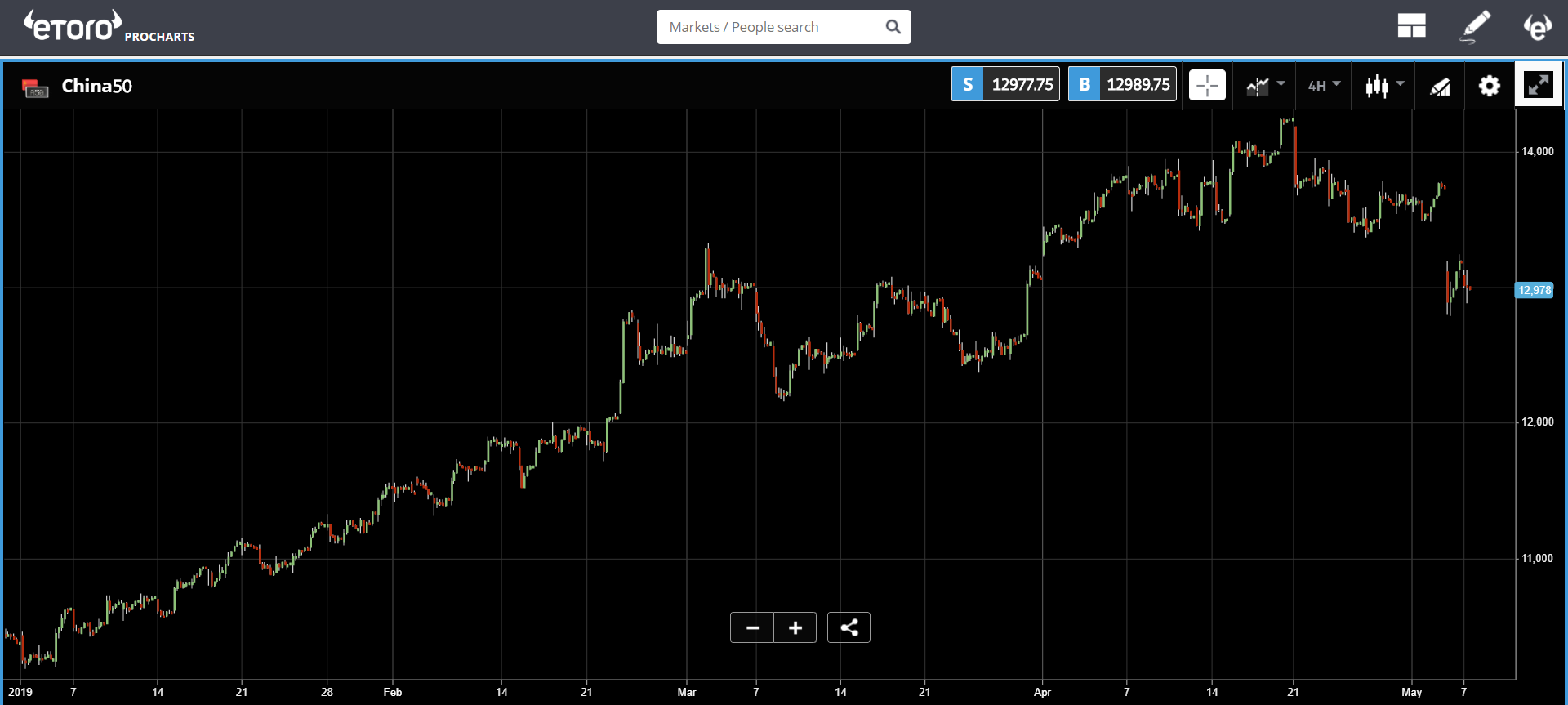 Outsmart Defanged
Just something that I thought was interesting here. The eToro @OutSmartNSDQ CopyPortfolio contains no Faangs.
For those of you who are not familiar with it, the OutSmart Nasdaq portfolio is designed to use eToro's big data in order to pick 15 stocks that are set to outperform the Nasdaq benchmark. We do this by employing a machine learning algorithm that ranks all stock traders and their portfolio makeup.
The algo considers all of the trader's holdings so even if they just added a small amount of a stock it picks up on that, so it's not just the largest stocks that get added.
The performance so far has been stellar. As you can see, the algo is doing its job to a T and has nearly doubled its namesake benchmark since inception.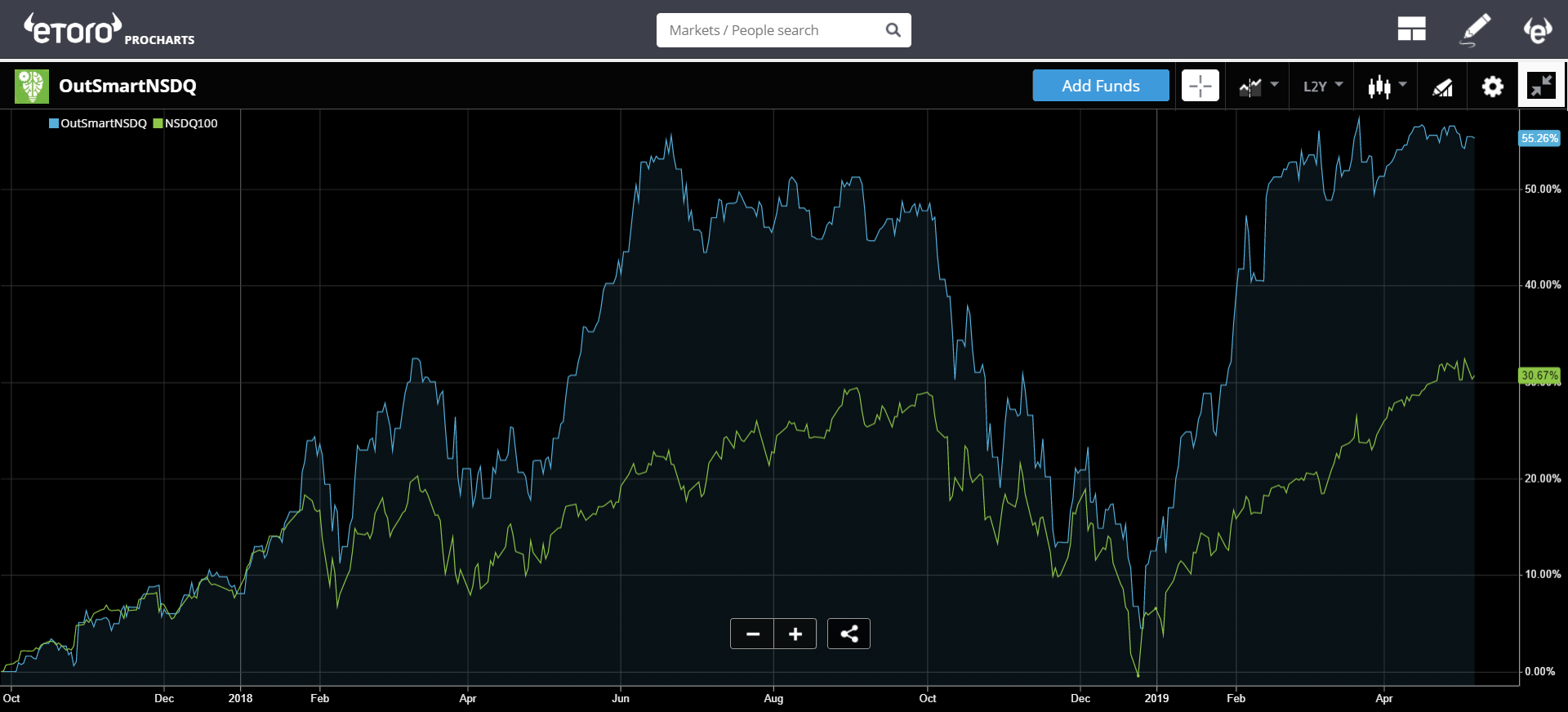 Today, I happened to take a look at the makeup of the portfolio and noticed that none of the top tech stocks are in there. Not Facebook, Amazon, Apple, Netflix, or Google. Not even Microsoft.
As the above 6 companies have accounted for nearly all of the global stock market gains so far this year, I find it very interesting that not a single one made its way into this portfolio.
Bitcoin Outperforming Everything
Many people are looking closely at the level $6,200 as a major resistance for bitcoin. Though I don't see any major significance for this specific number, I suppose it's as good a benchmark as any.
The crypto markets have been on a roll lately. Bitcoin is significantly outperforming, not only compared to other cryptoassets but every other major asset so far in 2019.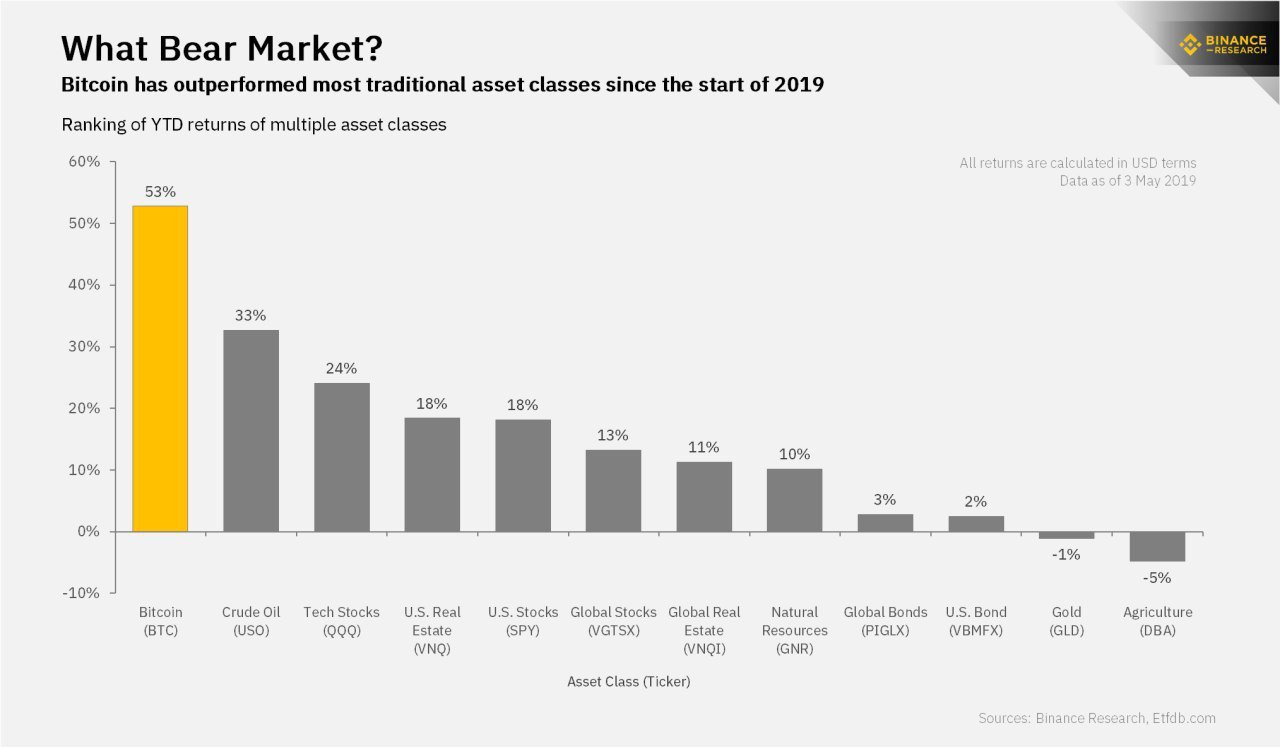 In our weekly video with CoinTelegraph, we discussed the possible impact that could come from financial giant Fidelity finally opening up bitcoin for its clients, as well as all the other top stories in the crypto market right now.
---
Mati Greenspan can be found on LinkedIn, Twitter, or etoro. 
This is a marketing communication and should not be taken as investment advice, personal recommendation, or an offer of, or solicitation to buy or sell, any financial instruments. This material has been prepared without having regard to any particular investment objectives or financial situation, and has not been prepared in accordance with the legal and regulatory requirements to promote independent research. Any references to past performance of a financial instrument, index or a packaged investment product are not, and should not be taken as, a reliable indicator of future results. eToro makes no representation and assumes no liability as to the accuracy or completeness of the content of this publication, which has been prepared utilizing publicly-available information.