The following article was written by Jens Chrzanowski, Member of  the Management Board of Admiral Markets Group AS.
---
Hello,
A new week begins, but it never really ends for cryptocurrency traders who can trade 24/7. Today, we'll be looking into the hot rally of Bitcoin and Ether.
Have a look at the two charts below. What do you think better describes the tendency, just wow or plain mad?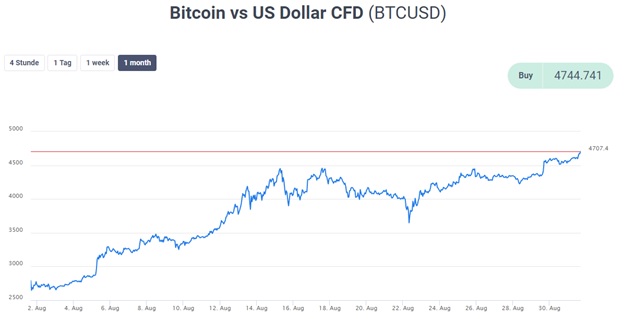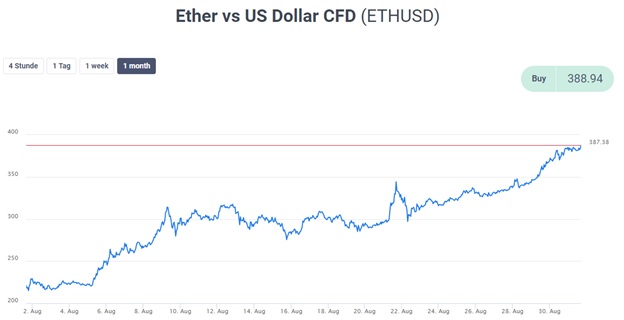 Both charts are taken from https://admiralmarkets.com/, showing BTCUSD & ETHUSD CFD instruments.
I have read analyst reports expecting BTCUSD to go up to 6,000 USD this year, at which point consolidation is expected, similarly to the previous level of 3,000 USD.
When it comes to ETHUSD, some analysts see the targets of up to 700 USD for 2017.
It is always exciting to read analyses, and whoever is monitoring cryptocurrencies will be able to see them move up and down, or even break all-time highs. Nothing can surprise us anymore, really, if we are talking about Bitcoin and other cryptocurrencies.
All that reminds us of the so-called dot-com bubble in 1999-2000, the overwhelming Internet startups and IPOs. Should that be the case with cryptocurrencies, a bubble is nothing bad for active traders, in my opinion. The question is timing. Long trades would be good as long as the bubble is growing, and short trades could be clever when a bubble is bursting.
Whether you trade Bitcoin, Ether, etc., or not, to have them on your watchlist would be my tip for every trader. Right now, I couldn't think of any other more promising instrument.
See you next week!
---
Feedback, concerns, requests, likes? Contact me via: [email protected].
Trading on margin carries a high level of risk, and this article should not be seen as advice or solicitation to buy or sell, but written for informational purposes.