ActivTrades' Market Analysts have prepared for Leaprate their daily commentary on traditional markets for May 8, 2019. 
---
Forex
The Pound continues to fall, threatening to drop below $1.30 during early Wednesday trading, as hopes seem slim that an agreement to deliver an orderly Brexit will be reached by Prime Minister Theresa May and opposition leader Jeremey Corbyn. Both politicians have been under pressure to deliver a solution, after suffering a humiliating defeat at the recent local British election, which was interpreted as a reaction to the disappointment generated by the Brexit related shenanigans at Westminster. For a while there were hopes that talks would lead to a resolution and that supported Sterling. However, the latest developments have been met with dismay by the markets, triggering a drop for the Pound, as it becomes increasingly clear that we are in for more of the same and no agreement is likely to be reached anytime soon.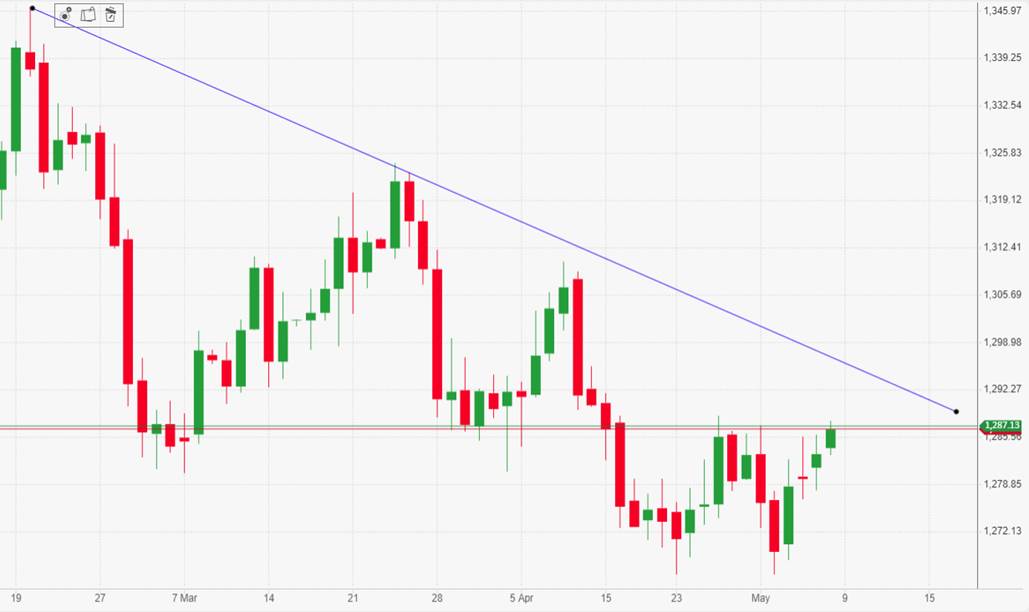 Ricardo Evangelista – Senior Analyst, ActivTrades
Gold & Silver
Gold is trying to continue its recovery. The positive move of the last few days will find more strength if bullion could surpass the resistance placed at $1,288, with a first target at $1,300. So far, Donald Trump's tweets have moved the stock markets much more than precious metals, with gold prices unable to break the medium term bearish trendline.
The situation is particularly interesting for silver: the metal is also close to breaking up the bearish trendline that has pulled down prices in the last 10 weeks. A clear rebound above $15 would denote strength, opening space for further recoveries.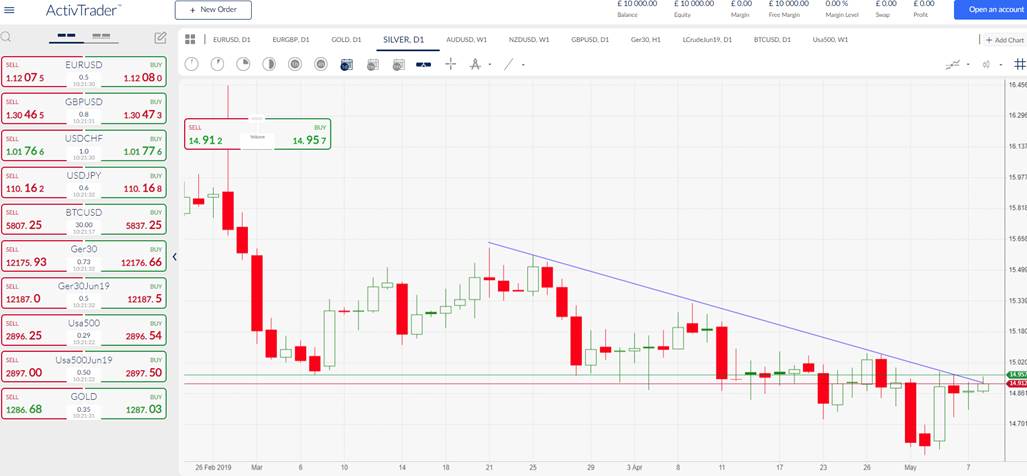 Carlo Alberto De Casa – Chief Analyst, ActivTrades
European Shares
Markets opened mixed but steady this morning despite extended declines registered overnight by Asian shares. This week's bearish tone as caught investors off-guard as nobody was expecting such an escalation in trade disagreement between the U.S. and China.
The current sell-off on stocks seems to be taking place as the climate between the two super powers has grown more tense than many had expected. Stock markets had already priced in an agreement between the two blocs since the beginning of the year, sending prices 15.6% higher on the MSCI index from January to May 2019, and investors now start to be disappointed by the direction these trade talks have taken. Many are starting to consider reducing their exposure to stocks in favour of safe haven assets like Gold or the Yen.
This week's rising volatility is not likely to decrease: all eyes will be on the next U.S – China meeting (9th and 10th of May) as well as on critical data from the two blocs with the U.S trade data and China report on inflation on Thursday while the U.S. CPI for April is to be released on Friday.
Pierre Veyret– Technical analyst, ActivTrades