While Bitcoin and other big cryptocurrencies are plunging this week, Ripple investors are taking off nice profits along the way.
In the last couple of hours, Ripple rose in value by almost 30%, and is now trading at an all-time high of $1.39. This means that the cryptocurrency outdid Bitcoin Cash in market capacity and has a total market capitalization of almost $47 billion. While other cryptocurrencies plunge and with big investors cashing out of Bitcoin and other, Ripple seems to flourish.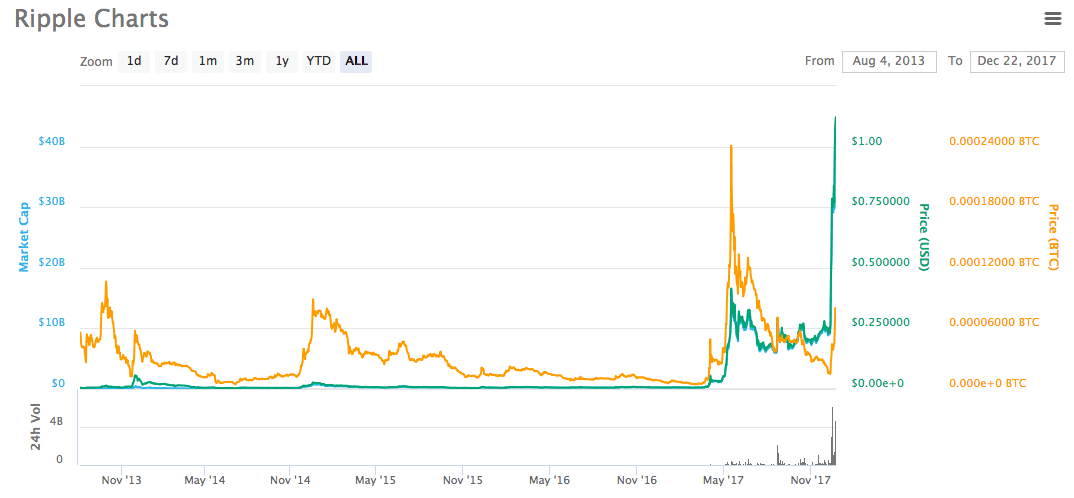 According to Bitcoinist, Ripple has been fluctuating between $0.15 and $0.28 since the end of May this year. Naturally, not a lot of investors were bullish on the altcoin, and the price was stable, with no abrupt ups and downs, with those seen in Bitcoin.
Ripple has now jumped with around 475% , according to Coinmarketcap. Interestingly enough, a staggering $3.6 billion have been traded in Ripple in the past 24 hours alone, as reported by Bitcoinist.
One of the major reasons for this price boost seems to be the Asian appetite towards Ripple. Press reported that more than 60 banks in South Korea and Japan will be using Ripple for bank transfers. In addition, the major trading volumes come from Bithumb and Bitfinex, based in South Korea and Hong Kong, respectively.
Last, but not least, with major exchanges such as Coinbase listing other cryptocurrency in addition to Bitcoin, Ethereum and Litecoin, the price of altcoins will see a major boost, as a larger audience will have access to these in the new year.