Bitcoin Bulls and Bears seem to be honoring a "D-Day" truce, as market volatility has waned. The crypto leader has been ranging within tight boundaries between $7,600 and $7,800, but bears appear determined to bring about the 30%+ correction that everyone has been speaking to for weeks on end. One pundit accepts the "calm" as a mere "stumble": "The recent stumble is among its first downtrends of the year, which had so far seen a huge rally in digital assets on the back of expectations of greater mainstream acceptance and new developments in the blockchain space".
Caution is the watchword today, but analysts seem preoccupied with finding that one special chart that will clarify what lies on the road ahead. After a 62% surge in May, the analyst community has been very edgy, expecting June to be the first negative correction month after the four stellar months that preceded it and after the "biggest monthly gain since the height of the crypto bubble in August 2017".
The recent pullback, as sudden as it was, has spooked many traders and analysts, alike. Jake Stolarski, senior trader at Greenwich, Connecticut-based Cipher Technologies, speaks to the current market confusion: "The market is in an identity crisis, trying to find a place to stabilize. The key technical levels have been creating market volatility, for sure, due to sudden shifts in sentiment."
Fear not, however. Surely there is a chart that will guide our market journey to be: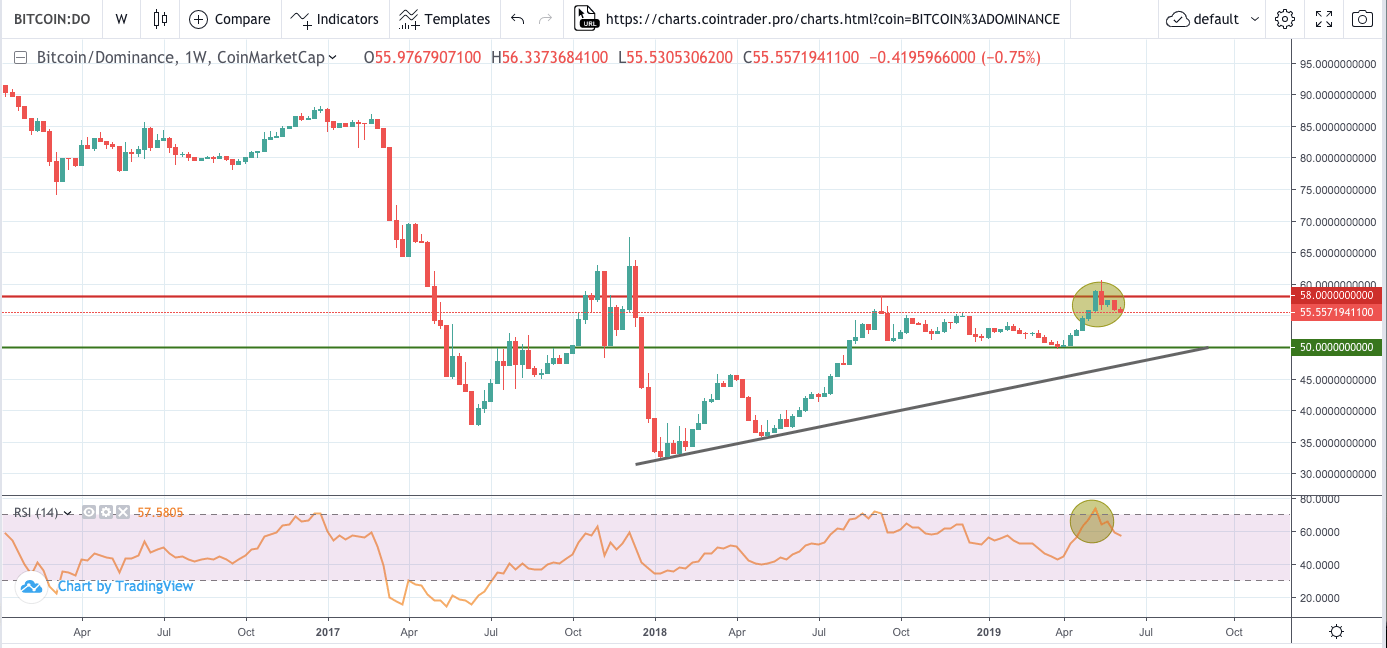 Do not waste time searching for this chart. It will not appear on your trusty trading software platform. It has been constructed from a database that tracks Bitcoin's dominance in the crypto market. You can easily find a point in time by consulting many of the online quoting websites that post both Bitcoin and total system market caps. These same sites, if you dig about, also track the same data presented above, but perhaps in a different format.
During Bitcoin's recent meteoric rise, it has bounced off the "Green" representing a 50% share and then peaked just above 60%. Traders follow this BTC share closely to determine the best times to switch back and forth from Bitcoin to other altcoins. As Bitcoin pulls back, or so the story goes, its altcoin brethren play a game of catch-up, as the "risk-on" green light shines brightly. The RSI momentum indicator also noted an Overbought condition, when BTC jumped beyond 60%. The pressure might be off at this stage, but the question is whether Bitcoin will regress to the mean of 50% in the weeks ahead or struggle to regain lost territory.
For those of you that follow Bloomberg, you may be familiar with their "GTI Indicator". They have a habit of announcing to the world any material change in what the technical tool is signaling. The latest version is presented below: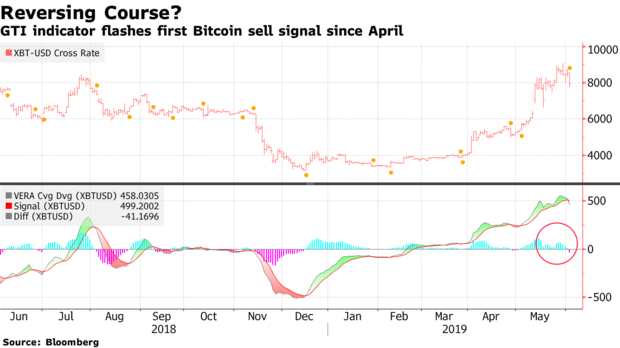 The GTI looks very much like an MACD Histogram in its format, but not near as sensitive, the reason that GTI "alerts" are rare occurrences and worth noting. Per Bloomberg's commentary:
The GTI Vera Convergence-Divergence indicator, which detects positive and negative trends, flashed a sell signal for the first time since April, suggesting there could be further downside as Bitcoin halts its recent monster rally.
Technical charts are great tools for gauging the sentiment of investors and for providing high-probability signals of what might transpire in the near-term, but they are not perfect by any means. Signals relate to prior pricing behavior, which is never a guarantee of future performance, but when they do tilt the odds in your favor in excess of 60%, an experienced trader knows how to leverage those odds in his favor.
Both charts presently confirm the general consensus of the analyst community that a major correction is coming. It would be a healthy thing for this market, but no one wants to get caught in the downdraft. On the other side of the coin, no one wants to short Bitcoin, only to see it take off for the stars once again. Is the recent fall below $8,000 just a "stumble" or a harbinger of something larger to come? Be cautious, and trust your judgment before acting.