Bitcoin has just passed the critical price level of $8,000, jumping from $6,000 just a month ago.
The new price increase suggests that we may seen be seeing Bitcoin hitting $10,000 and moving steadily up. As of this writing, Bitcoin is currently trading at $8,299, according to CoinDesk.
One of the lowest points for Bitcoin was in June, when the "people's currency" dropped to $5,848.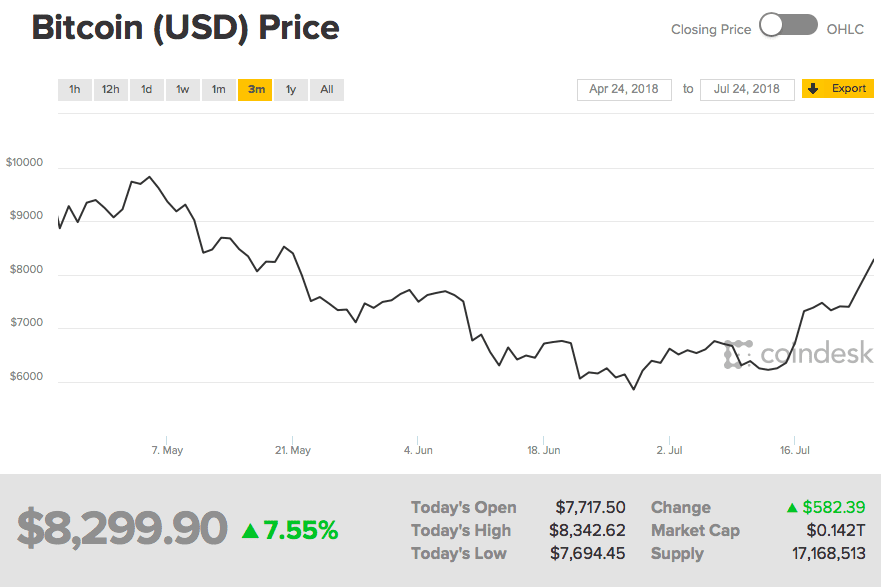 Given the quick rise, Bitcoin hodlers and enthusiasts swiftly commented on the positive news. As reported from CoinJournal, John McAfee said:
"I think the past week has shown that the bull market is right around the corner. A couple of months later than I thought, but in the long term, an insignificant delay". 
Going back to the end of 2017, however, when Bitcoin was trading for $20,000, the current price may not seem exciting. Not for long, according to analysts.
There might be several serious reasons as to why Bitcoin will see its "bull kingdom" stronger than ever. According to a source from CoinJournal, there was a third attempt by VanEck to the SEC for the creation of the first Bitcoin exchange-traded fund (ETF). The previously unsuccessful attempts of money management companies to initiate the Bitcoin ETF have not stopped efforts altogether.
Another positive news is the increased interest from institutional investors, who, according to representatives from Coinbase, were boosting the market. For example, the cryptocurrency exchange just announced strong interest coming from hedge funds and family offices. Coinbase is hopeful that such important support will continue in the future.
Regulatory issues are still in question when it comes to Bitcoin. But with possible ETF coming and the rising interest from large investors, Bitcoin's price may be steadily rising in the foreseeable future.