LeapRate Exclusive Analysis… Last week's release of 2016 financial results by binary options platform and brokerage group TechFinancials Inc (LON:TECH) came and went without too much notice or fanfare.
Indeed, the market was not too impressed with what TechFinancials had to say as the company's shares traded down by 13% right after the results were announced.
Our analysis shows that TechFinancials' results were not too well understood, either for what they mean for the company moving forward or the Binary Options sector as a whole. Remember, TechFinancials is the only pure-play publicly traded Binary Options company out there, so there is usually a lot to learn and infer for the sector as a whole from what they report.
First, the negative market reception.
We believe that despite the nice growth the company showed in the second half of 2016 (see chart below) – 2H revenues of $11.4 million versus 1H revenues of $9.9 million – investors chose to focus on a few lines in the company's "outlook" statement. TechFinancials warned of the negative effects going forward of the company losing its largest B2B (platform licensing) customer 24option – despite the fact that this wasn't really news, we (and others) reported this two months ago.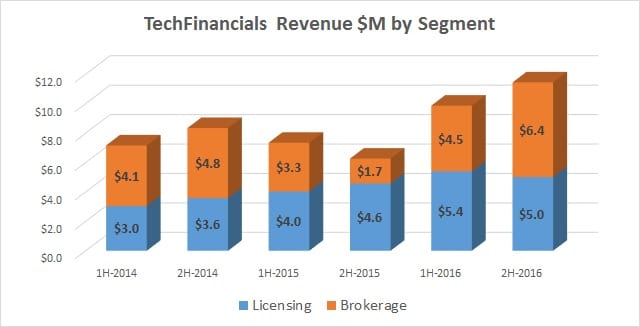 Another overlooked aspect of the company's 2016 report was the importance of China, both to TechFinancials and to the Binary Options sector generally.
Out of the company's total binary options brokerage revenues in 2016 of $10.9 million, $9.3 million – or 85%! – came from its China-focused joint venture DragonFinancials. That means that the company's own OptionFair brand has all but disappeared. It also means that the company did very little brokerage activity outside of China.
And while it didn't break things out in such detail for its B2B binary options platform licensing business, TechFinancials did state that its focus was on the Asian markets in this part of its business as well, with that helping to drive higher B2B revenues.
We'd also note that the company's second half revenue growth was entirely due to its brokerage business. The platform licensing business was actually down about 10% from 1H-2016, indicating an increasingly difficult market and harsh conditions for start-up binary options brokers (and those who sell them technology and services.
We believe that TechFinancials' results, looked at in this way, do provide a very important window into what is going on globally in the binary options sector.
After much (well-deserved) bad press surrounding the poor behaviour of many binary options brokers, and a number of restrictive regulator actions in places such as Israel where many binary brokers and platform providers (including TechFinancials) reside, the industry had hit some hard times in Europe and the western world. Traders have become very wary of Binary Options brokers.
But a lot of the 'bad news' and industry reputation hasn't yet hit China, where there is still a lot of growth being shown among volumes being traded and brokerage start-ups. Some recent 'fintech' and financial trading conferences and events in and around China have really been (almost) all about binary options.
However the party might soon be over in China and the Far East as well. As TechFinancials also said in its 2017 outlook, it believes that regulatory changes may also soon occur in the Asian market, which could have an impact on the company's performance in 2017 and beyond.
TechFinancials full 2016 results report can be seen here.