Well here's a neat way to create value for your shareholders.
Sell (dump, really) your main business for next to no consideration, call yourself a Blockchain technology company, and wait for traders to bid up the price your stock.
Sound silly?
Well, that's what has happened at (now former) Binary Options platform operator TechFinancials Inc (LON:TECH).
TechFinancials, which has been in the Binary Options platform business for a few years and operated the OptionFair binary options brand, with its Revenues split fairly evenly between the two divisions, has seen its shares more than quadruple over the past two weeks since announcing that it was selling OptionFair for $400,000, to focus on "solutions for the rapidly growing blockchain-based products and technologies market".
TechFinancials shares had been languishing in the 5-7 pence price range for most of the past six months, down from above 10p earlier this year after reporting worsening financial results.
And Israel-based TechFinancials was under regulatory pressure, similar to the other Israel-based Binary Options platform providers, once Israel's parliament passed the 'Binary Options Law' banning all activity in the country.
So, it wasn't that much of a surprise when TechFinancials decided to dump OptionFair and focus its energies elsewhere. But we doubt that company management thought that the move, done somewhat out of desperation and necessity, would result in a quadrupling of its share price so quickly.
Over the past six trading days, TechFinancials shares have moved up rapidly, from about 6p to above 32p yesterday, closing Tuesday trading at 28.9p – its highest level since mid-2015 soon after TechFinancials' March 2015 IPO at 27p per share.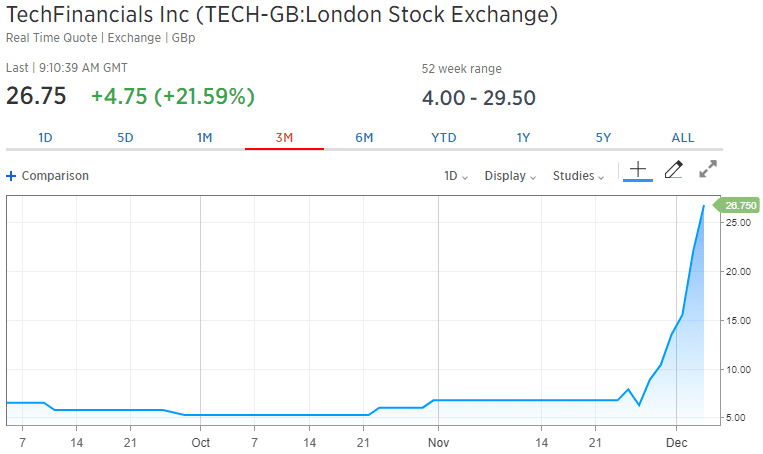 TechFinancials share price past three months. Source: CNBC.