LeapRate Exclusive… LeapRate has learned via regulatory filings made in Norway and the UK that Norway's central bank, Norges Bank, has taken a 3% equity position in the shares of online payments services giant Paysafe Group Plc (LON:PAYS).
Paysafe's brand portfolio includes NETELLER and Skrill, MeritCard, paysafecard, payolution, Income Access and FANS Entertainment.
The Norges Bank stake in Paysafe consists of 14.5 million shares, worth about £60.2 million (USD $75 million).
The Paysafe investment increases Norges Bank's recent pickup of shares in online services companies. We recently reported about a similar 3% position that Norges Bank took in UK online broker CMC Markets Plc (LON:CMCX).
So what is a central bank doing taking a position in a publicly traded company such as Paysafe?
While having traditional central banking responsibilities in Norway such as financial and price stability, Norges Bank also manages The Government Pension Fund of Norway, a multi-asset investment fund which at about $900 billion is among the world's largest sovereign wealth funds.
A separate unit, Norges Bank Investment Management, handles the operation management of the fund which consists of equities, fixed income and unlisted real estate.
Originally known as The Petroleum Fund of Norway, the fund's main role is to invest surplus wealth generated from Norwegian petroleum income.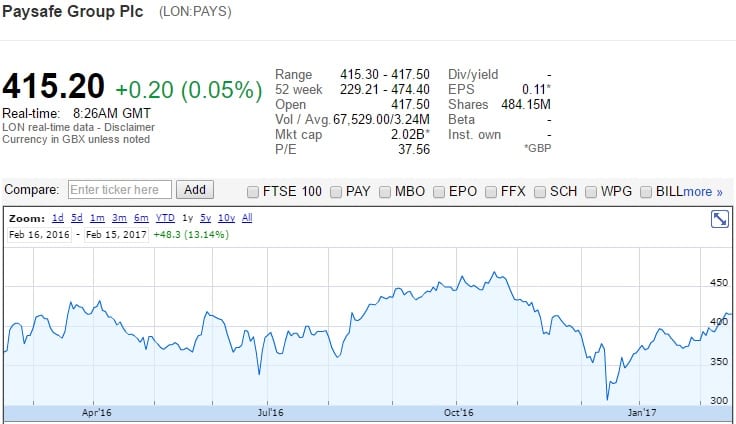 Paysafe one year share price graph. Source: Google Finance.