Swiss online brokerage leader Swissquote Group Holding SA (SWX:SQN) has announced the launch of Mobile Level 3, a new authentication system for its online trading platform.
Some highlight:
Through push notifications, Swissquote simplifies and accelerates authentication when accessing its online trading platform
Thanks to a push message on the smartphone, customer identity can be more quickly verified
Provides a faster, secure authentication alternative to the bank's existing Level 3 card
New technology makes trading with securities easier and more user-friendly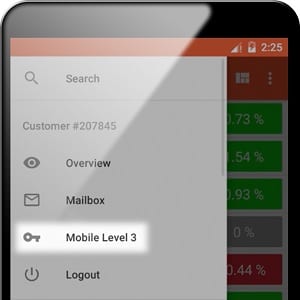 Customers will still need to enter their username and password to access their account. However, for the supplementary security layer, customers can from now on opt to receive a push notification on their smartphones and will no longer need to read and enter an authentication code from a physical Swissquote Level 3 paper code card.
This push notification appears on a customer's smartphone or tablet and can be confirmed by tapping. This simplifies and accelerates the authentication process without compromising security. The Mobile Level 3 solution was developed by Swissquote and is proof of its high-level expertise in Fintech.
Once activated via the Swissquote app, Mobile Level 3 is immediately available, providing direct, simplified authentication. This gives customers quick access to their Swissquote account, allowing them to place orders simply and easily. The technology is secure and faster than codes received by SMS as clients can authenticate themselves without needing to enter a combination of digits. Similarly, there is no need to scan a QR code: a simple touch on the push notification confirms identity.
Paolo Buzzi, CTO of Swissquote stated:
Through a customer survey we realised that many customers found the online authentication process to be prolonged. This led to some clients deactivating this additional authentication layer, Level 3. In order to avoid this, we have created a more user-friendly authentication experience. The Mobile Level 3 technology combines the necessary high security with the need for a smart solution that is fast, flexible and easy to use.
Customers can now use this alternative solution for authentication by activating the "Mobile Level 3" option in their Swissquote applications for iPhone, iPad and Android (and soon also Windows). Push notifications can also be received when the app is not open. An Internet connection via Wi-Fi or mobile network is required. For those clients preferring to continue using the existing Swissquote Level 3 card, this option will remain available.
The Level 3 card is a paper card, resembling a credit card, which is renewed every year and contains various code combinations. It is a supplementary authentication level, in addition to username and password, which can be used to log on to the Swissquote platform to place orders.