The world's largest social trading network FX Junction announced today that November continued its positive pace of adding new members linking their MT4 accounts. By the end of November, FX Junction reported 9,110 linked accounts, up 1.5% from 8,968 linked accounts from October's final tally.
The company also reported that their live account profitability metric, which is the percentage of linked live accounts which were net profitable for the month, was lower compared to October but still posted a strong 53.56%.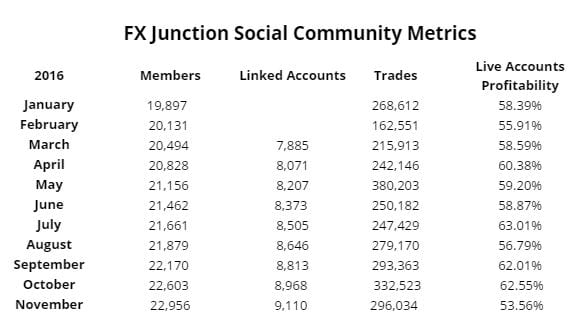 Furthermore, the company added Spanish to the platform and plans to add more languages to follow including French, Italian, German, Russian, and Arabic.
Finally, the company reported that its developers are currently working on implementing new features to enhance user experience. These new features will include:
Hosted Account: Members who link their account(s) to their FX Junction profile will be soon be offered the ability to host their platform directly on FX Junction which will eliminate the need of the self-hosted FX Junction Bridge EA and a VPS.
 Affiliate Program: Existing Members can receive bonuses for referring new members to FX Junction as well as Signal Providers can refer their AutoCopiers from other platforms to FX Junction and receive higher fee payouts.
Performance Statistics Improvements: More improvements to its performance statistics so members can better analyze their trading results.
For more information on FX Junction click here.