Payments services and technologies provider SafeCharge International Group Ltd (LON:SCH) has announced that it recently completed a £4.29 million (USD $5.4 million) share buyback.
On January 23, 2017, it purchased for treasury 2,200,000 ordinary shares at a price of 195 pence per share.
SafeCharge has not announced a formal share buyback program, so it remains to be seen if this is a one-off purchase, or if the company has a larger buyback program in mind.
SafeCharge has seen its share price stuck near 52 week lows despite recently reporting record Q4 Revenues as itsTier 1 customer list continues to grow.
SafeCharge competitor Paysafe Group Plc (LON:PAYS) has had some fairly good results recently following its announcement of a planned £100 million buyback program. To date, Paysafe has spent about £8 million.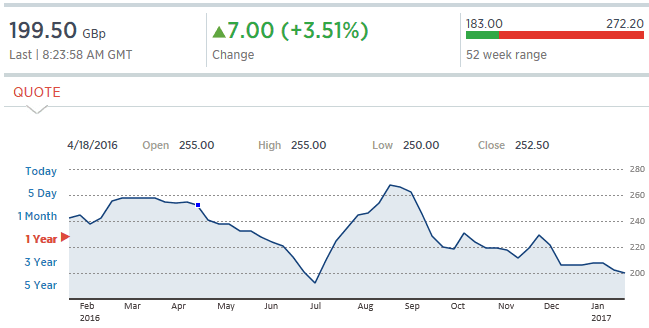 SafeCharge one-year share price chart. Source: CNBC.