Israel business news source TheMarker is reporting a merger in the Israel retail forex arena, with Colmex buying popular trading site Matach24.com. 'Matach' is an acronym for 'foreign exchange' in Hebrew.

Colmex is one of just six companies to have received a Dealers' license from the Israel Securities Authority (ISA), out of the 21 firms (including Matach24.com) which have so far applied.
New Israeli regulations took effect effect in July covering different aspects of online trading. The ISA has been taking aggressive moves lately to reform the way online (and offline) brokers engage with clients, including the banning of all binary options trading. Forex brokers serving Israeli retail clients were required to apply for, and eventually receive, an ISA Dealers license. And, as per above, just six of those have been issued.
With a number of brokers being left without a license, consolidation is expected to continue with those which have received licenses buying out in some form those which haven't.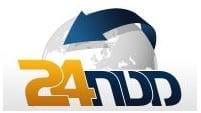 As far as the Colmex-Matach24 transaction goes, TheMarker is reporting that the two companies are merging, with Matach24 shareholders receiving a 49% shareholding in the combined company. Aside from throwing in its client list and operations, Matach24 shareholders will also put several millions Shekels into the combined company.
Colmex Israel founder Meir Barak will continue to be the effective controlling shareholder in the combined company. Matach24 is currently held by a variety of shareholders who will become minority shareholders of the combined company, including Israeli entrepreneur Yariv Gilat, Roni Peled, Eli Zamir, Formula Systems CEO Guy Bernstein, former Matach24.com CEO Raz Levi, current Matach24.com CEO David Messica, and Matach24.com founder Rafi Cohen.
The deal still needs to be approved by the ISA. If it goes ahead, Colmex will become the largest retail forex broker serving Israeli clients.
The article on the merger at TheMarker can be seen here (in Hebrew).