Industrial and Commercial Bank of China Limited (ICBC) Singapore Branch has adopted business information giant Thomson Reuters Corp (NYSE:TRI)'s FX e-commerce solution Electronic Trading to strengthen its presence in the foreign exchange market. ICBC is the first Chinese bank to adopt this next generation solution from Thomson Reuters.
Electronic Trading provides efficient market making capabilities and allows ICBC to price CNH and other G10 currencies across Asia with various branches, interbank clients and corporate clients, thus strengthening ICBC's strength and presence in the foreign exchange market. The importance of major emerging market currencies is growing, especially due to Renminbi's internationalization.
With Thomson Reuters Electronic Trading, banks across 60 countries globally benefit from a next-generation electronic FX trading platform.
As part of the Thomson Reuters desktop trading platform, Electronic Trading offers a powerful suite of solutions to shape and automate FX prices.
ICBC in Singapore is the official CNH clearing bank and full-licensed bank that has a strong business footprint in treasury, asset management, corporate banking and trade finance in Asia-Pacific markets and globally. ICBC has also been being ranked as the world's largest bank by asset value.
Mr Zhang Weiwu, General Manager of ICBC Singapore, commented:
As China's largest bank and the official CNH clearing bank of Singapore, ICBC Singapore is committed to offering a full range of integrated financial services in the CNH and other key currencies to our clients. The electronic trading solution provided by Thomson Reuters meets our Treasury team's varied needs for strong infrastructure support.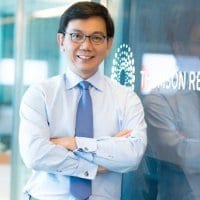 Alfred Lee, Managing Director, ASEAN, Financial and Risk, Thomson Reuters, added:
With 25% of global FX trade taking place in Asia, ICBC's decision to deploy Thomson Reuters Electronic Trading solution fully enables the bank's FX market making capacity to both interbank and corporate clients and also streamlines risk management. We have a number of Chinese banks using our existing FX e-commerce solutions, and ICBC is the first to take advantage of our next generation technology.

Considering the prominent theme of Renminbi internationalization, we look forward to collaborating with ICBC, a leading Chinese bank and market player, in the foreign exchange market. As a global independent source of trusted FX market insight and solutions, Thomson Reuters collaborates with multiple market participants to provide FX solutions that connect and empower the financial community in APAC and globally.