LeapRate Exclusive… Another rough quarter at Binary Options brokerage group EZTD Inc (OTCMKTS:EZTD), which seems to somehow keeps raising more money to stay in business.
LeapRate has learned from regulatory filings made in the U.S. that EZTD – which operates the EZTrader (at website eztrader.com), Global Option (globaloption.com) and EZinvest (ezinvest.com) binary options brands – sustained a $3.2 million loss in Q3, bringing its loss for the first nine months of 2016 to a total of $11.5 million.
The company saw Revenues drop marginally to $4.5 million in Q3, down from $4.9 million last quarter – which in turn were down from $7.0 million in Q1.
EZTD stated in its regulatory filing that there is a 'substantial doubt that the Company will continue as a going concern', due to the company's continued losses. The company says that it plans to seek additional funds from equity issuances in order to continue its operations.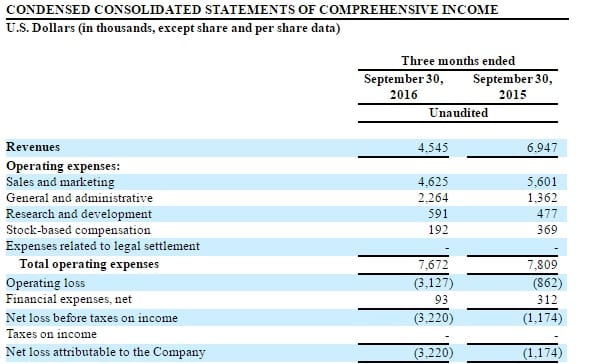 Keeping EZTD in business have been additional capital raises. During the first nine months of 2016 EZTD raised $6.3 million from issuing new shares and warrants, $2.0 million in short term bank credit, and about $700,000 from convertible notes issued. After Q3 ended, EZTD raised an additional $1.1 million via a one-year convertible loan agreement with an Italian company called Finandrea S.P.A.
Trading volume during Q3 across the company's brands was down 13% QoQ to $25.2 million versus $29.1 million in Q2. In Q1 EZTD did volumes of $52.8 million.
In explaining its worsening results, EZTD stated that the decreases in activity during 2016 are mainly attributable to a significant increase in customer withdrawals as a result of new regulations imposed by the Cypriot regulator, CySEC, and a decrease in marketing expenses to improve ROI and re-focus on its core business in Europe. (However the company also stated that it would like to expand in the United States using approved regulatory pathways, and that it had incurred expenses for expansion into the Japanese market, which has yet to generate significant revenues to the Company).
Despite the company's mounting losses, EZTD CEO Shimon Citron took home a $230,000 bonus in the first nine months of 2016. Citron's bonus is a function (1.25%) of total net client deposits. That might need to change in the future, given Cyprus financial regulator CySEC's new directives limiting such bonuses.
Adding to EZTD's mounting financial problems, during Q2 EZTD was ordered to pay more than €545,000 (USD $588,000) to Dutch soccer club Feyenoord Rotterdam in an arbitration ruling relating to EZTD's early termination of a sponsorship agreement with Feyenoord. EZTD appealed this decision on July 6, 2016.
EZTD recently reached a $1.7 million settlement of charges with US regulatory authorities relating to violations of certain US federal securities laws primarily related to its binary options platform. The settlement requires the company to pay the first installment of $147,796 by November 20, followed by 11 monthly installments of $147,796 throughout most of 2017.
In Q3 EZTD hired Mark Kreimerman as CTO, and Yossi Gafni to replace the recently terminated Tal Golan as VP Sales of EZTrader. Both Kreimerman and Gafni are former senior executives from EZTrader rival anyoption.