Retail forex broker Exness had a very nice start to 2017, reporting that January Forex volumes came in at $266.8 billion – a record month for the company.
Exness' previous high month was July 2016, in the volatile post-Brexit environment, at $253.2 billion.
Sources at the company informed LeapRate that unlike July 2016, when volumes topped due to a small group of traders doing a large chunk of trading, in January it was more across-the-board organic growth, spanning almost all of the countries in which Exness has a presence.
Exness also reported its highest ever number of active clients during a calendar month during January, at 40,809.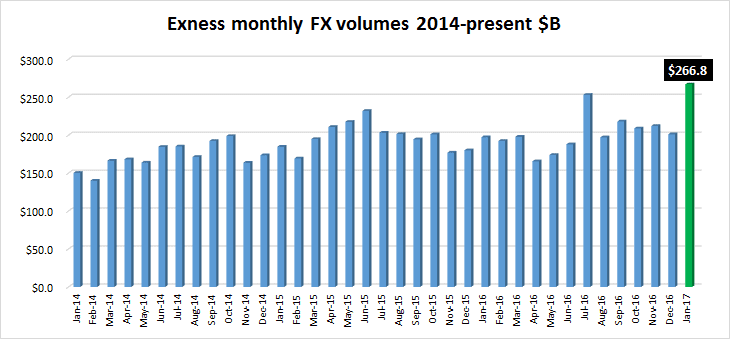 January's strong start for Exness comes on the heels of a decent 2016 seeing Exness report record volumes of $2.41 trillion for the year, making Exness one of the 10 largest retail forex brokers worldwide.
In the fall, CySEC regulated Exness announced plans to expand in Europe and in the institutional eFX space, backed by a new UK subsidiary and FCA license.
Exness has its volume, client withdrawal and partner rewards figures audited on a quarterly basis by global accounting firm Deloitte. The Deloitte Independent Assurance Report for the most recent quarter (Q3) for Exness can be seen here.