NEX Optimisation, which helps clients reduce complexity and optimise resources across the transaction lifecycle, announced today that it has built the underlying architecture for NEX Infinity, a cloud hosted, Software as a Service (SaaS) platform which will transform the delivery of NEX Optimisation's services to clients.
From July 2017, clients will be able to start testing spot foreign exchange (FX) and cash equities in the NEX Infinity distributed ledger.
Regulatory and technological changes have created many challenges for clients, including:
Fragmented data;
complex legacy systems and processes;
mass reconciliations;
ongoing regulatory demands;
a proliferation of vendors and high risk and capital costs.
NEX Infinity will simplify trade processing, give clients' control of clients' data, and help them reduce costs and optimise their risk and capital across the transaction lifecycle. This will ultimately help them grow their revenue by delivering their own services through a single connection and enriching their trusted data set.
NEX Infinity provides a single gateway through which clients will be able to connect once to access NEX Optimisation services. Its open and layered micro services architecture ensures interoperability between platforms and services and gives clients the agility to access not only NEX Optimisation services, but also to permission third party service providers to deliver services to their trusted data on the NEX Infinity platform.
By bundling together a variety of services, NEX Infinity helps clients meet all of their trade and portfolio processing needs throughout the transaction lifecycle in one place, while the application of artificial intelligence and distributed ledger technology allows continuous enrichment to their own trusted data.
Having built the minimum viable product in March, NEX Infinity will move into production testing with clients in July 2017 for FX and cash equities matching, allocations and confirmations on the distributed ledger.
After signing a single Master Services Agreement to access NEX Infinity, clients will be on-boarded to the platform, where they will be able to test and interact with their data. Adoption of the new technology requires minimal effort from clients who on request, will be automatically migrated to the NEX Infinity platform. Duco's artificial intelligence reconciliation tools will be utilised to perform the reconciliation of old and new technology for clients.
NEX Optimisation plans to bring additional services onto NEX Infinity for production testing by autumn 2017. Future releases will include additional asset classes and ensure connectivity to third parties.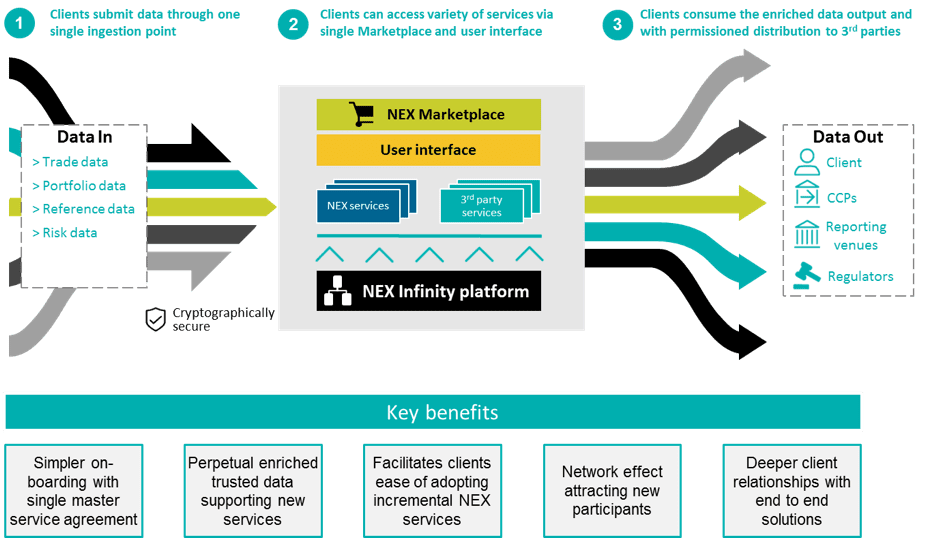 Michael Spencer, CEO of NEX Group, said:
Regulatory and technological change are having a profound impact on financial markets. Regulations are adding numerous processes to client workflows and technology architectures are becoming even more complex, ultimately limiting our clients' ability to grow revenue. Leveraging our significant technology expertise and assets, NEX Infinity is truly transforming and simplifying market infrastructure. We are excited to be going into production testing for spot FX and cash equities on the distributed ledger and look forward to on-boarding our clients in the coming months.
Jenny Knott, CEO of NEX Optimisation, added:
NEX Infinity will revolutionise the trade processing landscape and allows clients to enter a new era of efficiency. Financial services technology has traditionally been built in silos and our clients typically need to maintain between 200 and 400 connections to their participants and intermediaries, resulting in fragmented data and unnecessary cost, complexity and risk. NEX Infinity solves these problems for the market. Through a single, cross-asset platform which uses emerging technology, clients will connect once to access NEX Optimisation's 6,500 connections and consume multiple services.