Social trading focused broker ayondo, which went public earlier this year on the Singapore Exchange, has announced fairly disappointing results for the third quarter of 2018.
Overall, ayondo revenues totaled just under CHF 4.0 million (USD $3.98 million) in Q3-2018, down 15% from Q2 and off 23% from last year's Q3, from before when the firm went public. Q3 was the company's slowest quarter since 2016.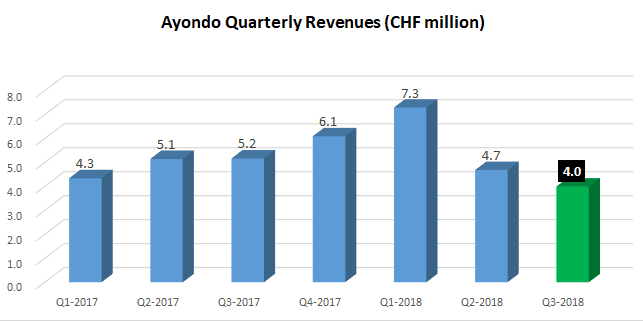 Most troubling was ayondo's anemic revenue-per-client figure of CHF 158, down significantly from previous quarters. (Q2 was CHF 193). ayondo stated that the per-client decrease was due to the "implementation of new ESMA regulations", meaning of course the reduced CFD trading leverage implemented by ESMA across the EU, effective as of August 1, 2018.
ayondo posted a Net Loss of CHF 1.6 million (USD $1.6 million) in Q3. That brings the company's total loss for 2018 (first nine months) to CHF 10.9 million.
ayondo held segregated client funds of CHF 35.96 million as at September 30, 2018, up from CHF 34.28 million as at June 30.
ayondo completed its IPO in March 2018, going public at a share price of S$0.26. The shares now trade at S$0.095, down by 63% from the IPO price.
As far as outlook goes, ayondo CEO Robert Lempka had the following to say:
I am glad to report that our implemented strategy continues to show improved results in 9M 2018. We stay committed to building and realising a strong B2B business pipeline as seen through our recently announced collaborations in China and Cambodia. In parallel, and to ensure growth within our core European markets, we have put in place all newly required regulatory changes, including ESMA and prepared for post-BREXIT. We continue to invest in innovation, technology and business expansion, while we remain focused on cost discipline and driving towards profitability.
ayondo's full Q3-2018 report can be seen here (pdf).