This article was submitted by Michael Stark, market analyst at Exness.
---
Markets started the week without clear direction in many cases although Chinese shares have surged so far today. The People's Bank of China injected more liquidity into financial markets, and the Shanghai Composite added nearly 2.5% in today's session. This preview of weekly forex data takes a look at conditions in markets and the key releases to affect GBPJPY, USDCAD and EURNOK.
Japanese GDP data late last night GMT were very negative. Preliminary GDP growth for the second quarter of 2020 indicated a drop of 7.8% (annualised as -27.8%), the worst result since comparable records began in 1980. Thai GDP also dropped 12.2% annually for Q2. Although this latter release wasn't quite as bad as expected, it's still the biggest quarterly drop since 1998.
Central banks were fairly inactive last week except for Banxico, which cut its benchmark rate half a percent to 4.5% as expected. This week's meetings include the Norges Bank and the CBRT.
This week's main regular releases are inflation in Canada, Japan and the UK. Japan's balance of trade just before midnight on Wednesday GMT is also an important release. Earnings season continues this week with releases of reports from Walmart, Nvidia and Alibaba on Tuesday, Wednesday and Thursday respectively: sentiment in stock markets is likely to remain key for many currencies throughout the week.
 Pound-yen, four-hour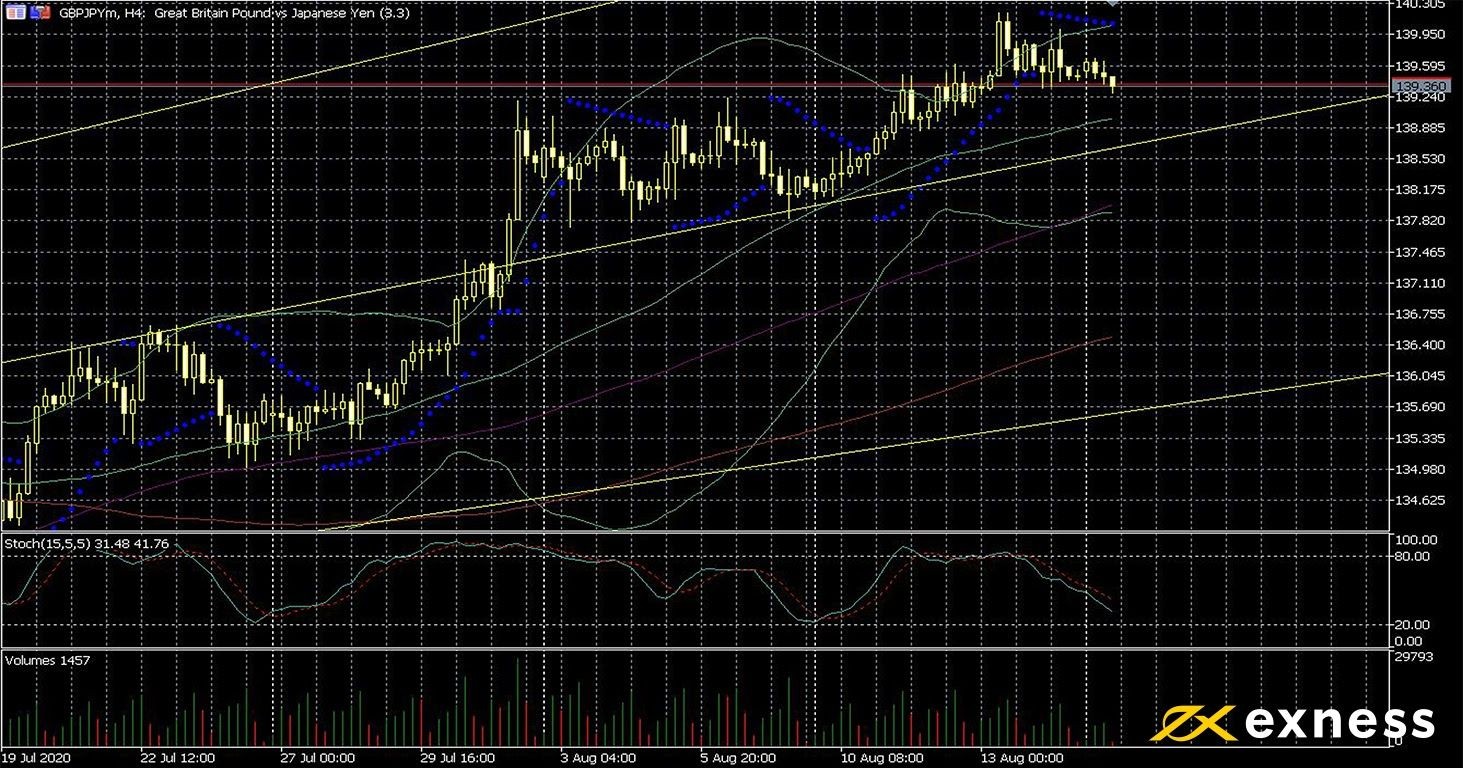 GBPJPY has so far failed to make much headway this week despite the historic negative GDP release from Japan this morning. Sentiment on the pound remains pretty nervous, with Brexit talks resuming tomorrow. Snippets of news from these are likely over the next few days, but the next official report of progress is due on Friday. Meanwhile Japan's state of emergency continues to weigh on the economy, with various Japanese exports such as cars declining by more than 50% compared with this time last year.