This article was submitted by Michael Stark, market analyst at Exness.
---
Asian and European shares generally moved up slightly on Monday morning as markets anticipate a highly active week in monetary policy and regular data. Gold and oil have both held near familiar areas from the end of last week. This preview of weekly data looks at XAUUSD and EURUSD.
There weren't any significant noises from central banks last week, but American inflation as released on Friday reaching a high of nearly 40 years now has participants in markets expecting fairly immediate action by the Fed. This is an extremely busy week in monetary policy: the FOMC, ECB, BoE and BoJ are the major central banks due to meet in the second half of the week, while the central banks of Hungary, Norway, Switzerland, Turkey, Mexico and Russia are also due to decide on rates over the next few days.
It's likely that most currencies will be quite active around these meetings and press conferences, especially on Wednesday night as the Fed meets. The Central Bank of the Russian Federation and the Banco de Mexico are both expected to hike rates.
This is also a busy week in terms of regular economic data. Claimant count change is the top release, with eyes also on British and Canadian inflation plus Australian job data. Oil might continue to take a breather over the next few days and consolidate, but volatility seems to be ahead for most forex pairs.
Gold-dollar, daily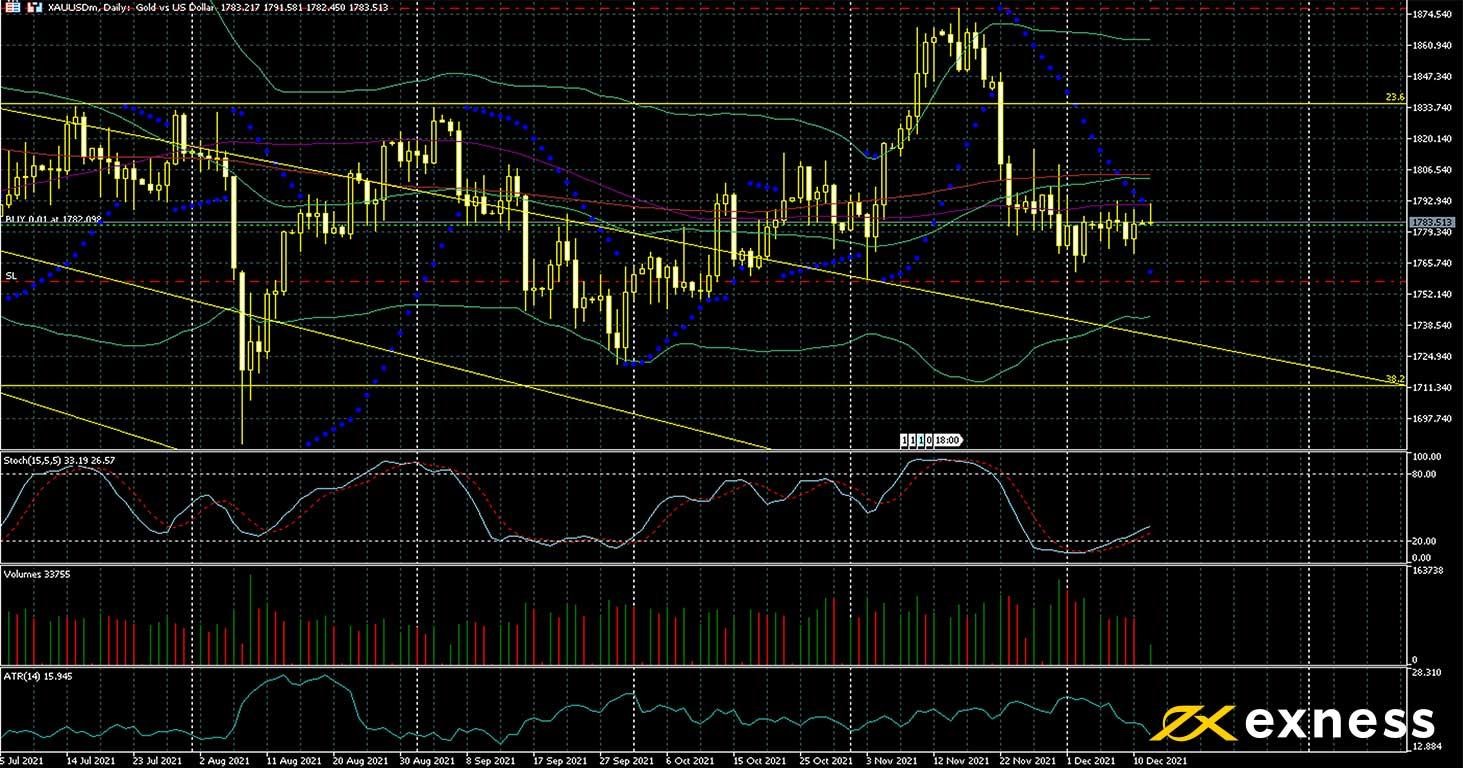 With the FOMC's statement and press conference coming up on Wednesday, gold's reaction to increasing American inflation has been muted. 6.8% non-core inflation in November in the USA is the biggest annual increase since 1982, driven mainly by soaring prices for fuel. Participants in markets widely expect the Fed to signal faster tapering of quantitative easing on Wednesday night although clear hints on the timeline for raising rates seem unlikely at this stage.