This article was submitted by Antreas Themistokleous, market analyst at Exness.
---
Coca-Cola's image before earnings report
Shares in Coca-Cola Company (The) (symbol 'KO') are still managing to remain in "profit regions" after a successful last quarter in 2022. The company is making gains of around 10% compared to the previous quarter. The company's earnings report for the fiscal quarter ending December 2022 is set to be released on Tuesday 14th of February, before market open. The consensus EPS for Q4 is $0,45 compared to Q4 2021's $0,45.
'The consumer defensive stock of Coca-Cola has a decent dividend yield of around 2.87% which is relatively good news for its investors while the payout ratio is a little more than 75%. This indicates the company is paying out the majority of its earnings in dividends which may sound as good news to its investors but at the same time it means that the company is not very keen to engage in growth activities.' said Antreas Themistokleous, an analyst at Exness 'The beverage giant is a well established firm in the industry and is not risking investor's money while a slowdown in trading volume for its share is only reasonable right before earnings release'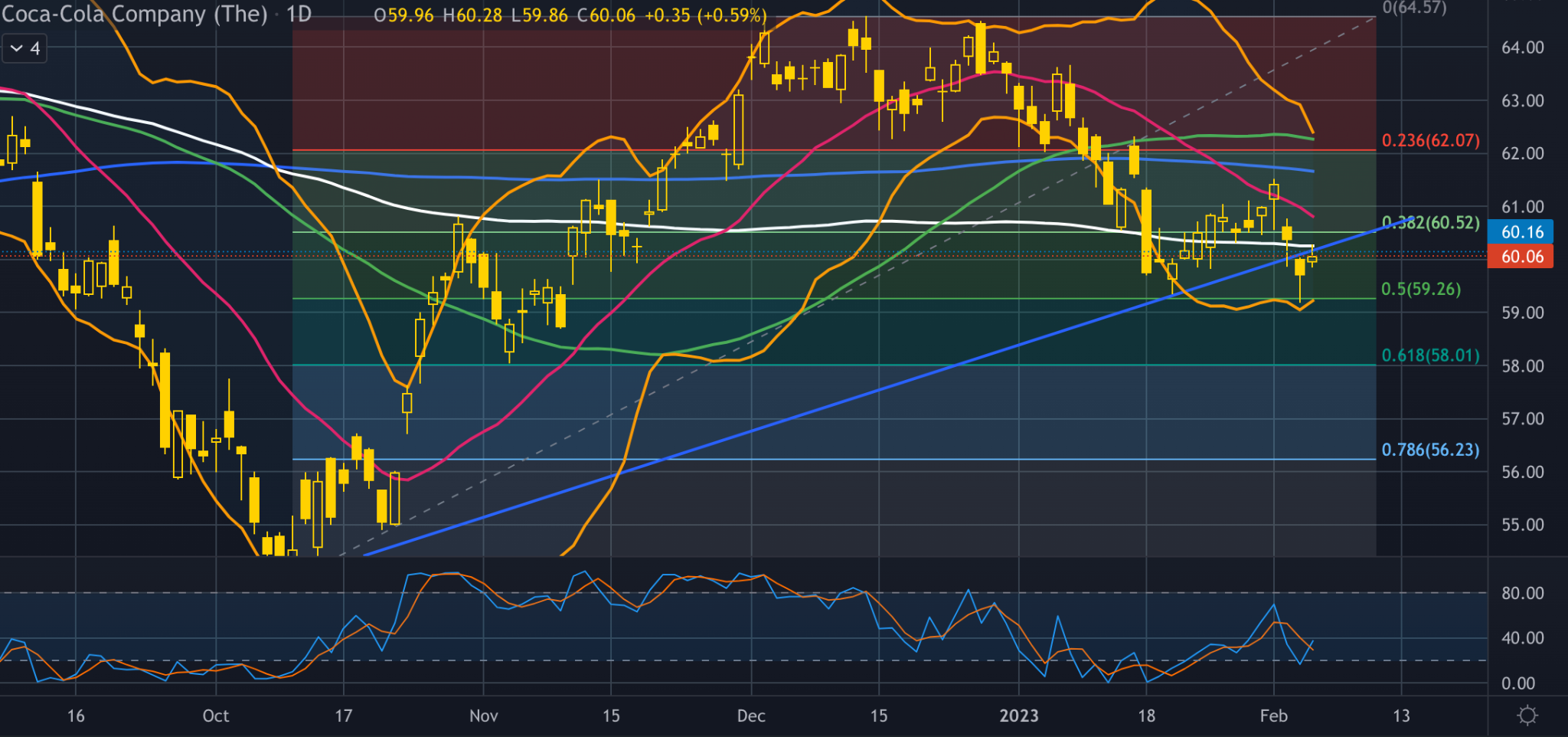 On the technical side the price is trading on a very strong technical resistance area which is made up of the daily bullish trendline, the 100 day moving average and is just below the 38.2% of the Fibonacci retracement level.
With the Stochastic oscillator trading near the oversold levels and the support of the lower band of the Bollinger bands and the 50% of the Fibonacci we might see some correction to the upside before the release of the earnings report. If the bears are proven to be strong we might see a continuation to the downside with a first point of support laying around the $59 area.