This article was submitted by Michael Stark, market analyst at Exness.
---
The fresh collapse of the lira this morning has dominated news from markets so far this week. Turkey's President Recep Erdogan sacked the head of the Central Bank of the Republic of Turkey Naci Agbal on Saturday morning, sparking panic among investors in Turkish bonds and shares from today's open. This preview of weekly forex data looks at two tradable emerging currencies, the baht and the peso, plus gold.
Last week's most important news from central banks for emerging markets was the CBRT's 2% hike of its one-week repo rate, taking the rate to 19%. The sum of hikes over Dr Agbal's tenure was 8.75%, one of the main factors driving the sudden decision to remove him. Elsewhere, the Central Bank of the Russian Federation also raised its key rate to 4.5% last week, a hike of 0.25%. The central banks of Thailand, Hungary, the Czech Republic, Switzerland, South Africa and Mexico all meet this week.
Yields from major benchmark bonds have generally declined negligibly so far this week. The USA's decade T-bond has held around 1.7%. However, German bonds moved up very slightly while remaining below negative 0.3%. The main regular data this week are tomorrow morning's claimant count change followed by British inflation, American durable goods, and German consumer confidence.
For emerging markets specifically, there is a particularly large number of important figures due this week. These include Mexican and Thai job data and balances of trade plus South African inflation.
Gold-dollar, daily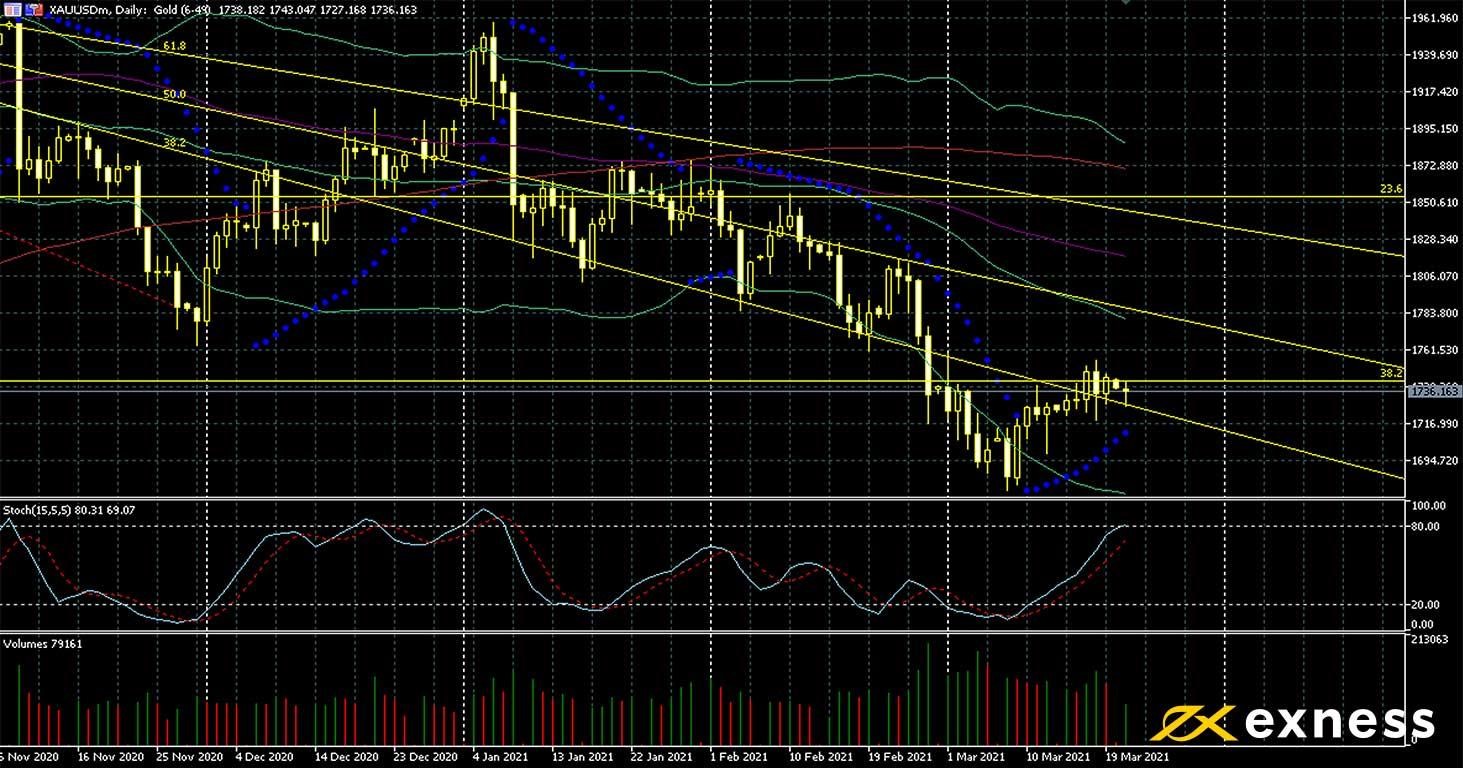 Last week's meeting of the Fed didn't have a very strong effect on the price of gold, but the yellow metal does seem to have found support for now around the psychological area of $1,700. The Fed's chairman Jerome Powell stressed the need for strong, ongoing monetary support and noted that changes to policy would need to be justified by actual data as opposed to projections. More generally, 'risk on' seems to be holding as American shares generally moved up yesterday  afternoon.