Online gaming and financial trading systems giant Playtech PLC (LON:PTEC) just announced its results for the six months ended 30 June 2017, together with a trading update for the period to 22 August 2017.
Before getting to the macro details, Playtech's financials provided quite a lot on insight into how its Financials division is doing, including its Markets.com Retail FX brand as well as the contribution of its CFH Group institutional FX acquisition, which closed late last year.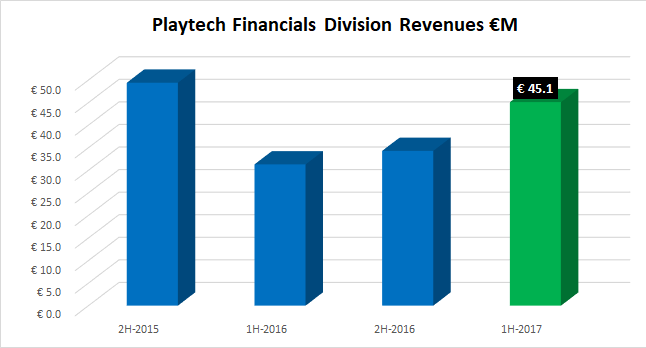 Overall, 1H Revenues at Playtech financials rose 31% over second-half 2016 to come in at €45.1 million. Excluding the contribution made by the acquired CFH business, however, Revenues would have actually been down slightly at Markets.com, by 5%, to €32.6 million (from €34.3 million in 2H-2016).
CFH's contribution to Revenue in the first half of the year was €12.5 million. That's not too great a figure, since CFH was on track to do about €29 million of Revenue in 2016 at the time they were acquired by Playtech.
As far as the Revenue decrease at Markets.com, Playtech reported that some metrics at Markets.com did continue to improve, with the number of active customers up by 24% to approximately 19,400 and first time depositors up 94% to approximately 10,500 compared to the first half of 2016. However overall Revenues and trading volumes were hit by the new leverage limitations implemented in the beginning of the year following CySEC's new guidance on default leverage.
Playtech's Financials division, now renamed TradeTech, will look different again come end-of-year reporting, with the addition of the Alpha Capital Markets B2B FX market making business, announced just yesterday.
Group financial highlights
Total revenues up 25% vs H1 2016 on a reported basis:
– 30% revenue growth at constant currency
– 10% revenue growth excluding acquisitions and at constant currency
50% of Group revenues were regulated in H1 2017 (FY 2016: 48%)
Adjusted EBITDA up 19% on a reported basis and 24% at constant currency
Adjusted Group EBITDA margin of 40.5% (H1 2016: 42.6%)
– in line with guidance given at FY 2016 results
– "core" Gaming margin (excluding acquisitions / white-label / Casual) of 51% (H1 2016: 49%)
Adjusted diluted EPS up 21% at constant currency
Gross cash at period end of €536 million (December 2016: €545 million) and €376 million when adjusted4 (December 2016: €392 million)
Interim dividend per share up 10%
Operational highlights – Financials Division
Momentum from 2016 continued into H1 with strong performance and improved KPIs
B2B offering further enhanced with acquisition of Alpha Capital Markets assets post period end
TradeTech Group brand launched to reflect the full B2B and B2C capabilities of the Financials Division
Current trading and outlook
Management is confident of a strong performance in 2017 driven by both organic growth and the acquisitions made in 2016 and 2017, albeit with normalised levels of growth in the second half from Asia following unusually high levels of activity in the first half
Average daily revenue in the Gaming Division for the first 53 days of Q3 2017, traditionally the slowest part of the year, was up 1% on Q3 2016 (6% at constant currency) and down 9% on an unusually strong Q2 2017 (down 6% at constant currency)
Excluding acquisitions, average daily revenue in the Gaming Division for the first 53 days of Q3 2017 was down by 1% on Q3 2016, increasing 3% at constant currency
The Financials Division is trading in line with expectations
Alan Jackson, Chairman of Playtech, commented:
The proven strength of the Playtech model was once again demonstrated with a strong H1 performance driven by both underlying growth and recent acquisitions. As always, Playtech's performance has been converted into strong cash generation enabling a 10% increase in the interim dividend, in line with the progressive dividend policy.

The first half of the year saw Playtech's Gaming Division deliver strong growth with double-digit underlying growth and recent acquisitions integrated and performing in line with expectations. Playtech has also continued to execute on its industry leading omni-channel solution by deepening its offering in key verticals with the integration of Playtech BGT Sports creating a fully integrated best-in-class sports technology solution and the launch of the world's largest Live Casino studio in Latvia, revolutionising the offering in a growing and dynamic channel.

As with the Gaming Division, momentum in the Financials Division continued with improvements across all KPIs. The announced acquisition of assets from Alpha brings an important new B2B revenue stream and the creation of TradeTech Group as our operating and corporate brand for the business is an important milestone and better reflects the broadening of the division's offering towards a full turnkey B2B financial trading solution.

Taken all together, this proven platform for growth across the business has again delivered a strong performance and management remain confident of further strategic progress in the second half of 2017.