LeapRate Exclusive… LeapRate has learned via regulatory filings that FCA regulated Forex and CFD brokerage GCM Prime Ltd has grown its business nicely in its first full year of operation.
For the nine months ended December 31, 2016, GCM Prime brought in Revenues of £1.5 million, had an operating loss of £227,000, and grew its Client Cash held from just over £500,000 as at March 31 to £15.4 million by year-end. The growth in client cash was partly organic, and partly due to the acquisition of a large book of institutional clients in September 2016, acquired from CMS UK, which also included ownership of trading names including CapMarFX, CapMar Financial and CMSFX.co.uk.
(GCM used to have a March 31 year-end, changing it now to December 31, accounting for the reporting of nine month results).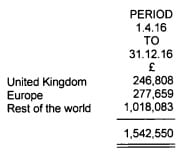 Although based in the UK, most of GCM Prime's business comes from outside the UK and Europe. as per the chart at right, two-thirds of GCM Prime's revenues during 2016 came from 'Rest-of-the-World', with 16% coming from UK clients and 18% from within the rest of Europe.
GCM Prime Ltd used to be known an AlumFX, an inactive retail forex broker which was acquired in 2015 by forex entrepreneur Salvatore Buccellato, via his US holding company Prime Trading Holdings Corp. GCM Prime was then relaunched in late 2015 as a service provider to Retail Forex brokers, providing liquidity solutions, full white label broker solutions, and Prime of Prime services.
Mr. Buccellato hired FXCM (now Global Brokerage Inc (NASDAQ:GLBR)) veteran Adam Toro, FXCM's VP Institutional Sales and Business Development from 2003-2015, to be CEO of GCM Prime.
Salvatore Buccellato continued to run his own offshore retail forex brokerage called Gallant Capital Markets Ltd, based in the British Virgin Islands. Gallant filed for Chapter 11 bankruptcy last month in the US.
During 2016, Mr. Buccellato's Prime Trading Holdings put another £4.2 million of capital into GCM Prime, to maintain its cash flow.
GCM Prime's nine-month 2016 income statement: